Idol Spirits
---
Full Album show of March 16, 2021 (Tuesday)
Album: Idol Spirits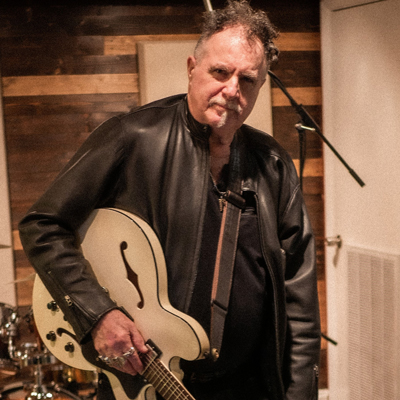 In the early 60s the Beatles stayed at a hotel in Miami Beach, part of the same beaches Richard Allen roamed early in his life. From his parents' garage 1964ish in North Miami, Richard practiced Beatles, Stones, Kinks, Animals and other "British Invasion" covers with other high school musicians as a drummer/vocalist.

In the passing of time, school work came first. After two college degrees one in early childhood education and advertising/mass communications. Richard took over the reins of a rock band led by a lost member of the Allman Brothers Band, as their manager and producer. After promoting separate concerts and opening for the Chambers Brothers and Brownsville Station in front of thousands of fans, there was a recording contract offer from Wooden Nickel Records out of Chicago. Alas, the band broke up and Richard went into the working world in sales, marketing, and advertising.

After running his own advertising agency as a copywriter and creative director, he went to work for Sirius/XM Satellite Radio in their Automotive Marketing Division. All along keeping in touch with his musical past and the musicians that he had worked with before. He produced several of their original recordings.

In what seemed like a lightning flash...Richard Allen has found the time and friends to produce his own music under the name IDOL SPIRITS. These are songs that have been a long time coming. Formulated from experiences gathered behind the windshield of his car while traveling and working throughout the southeastern United States and on airplanes traveling coast to coast.

Hard work and education can be heard in these works. Richard is a product of his love for music and always hold on to his strong belief that MUSIC makes the world go round..!

Song List
1. JM (Jim Morrison)
2. Unprecedented Days
3. Light Angels
4. Alter Ego
5. Just One More Night
6. Rock & Roll Lovers
7. Zoomed
8. 2020
9. Calm
10. Meet Me (by the side of the road)
11. For Future Reference
12. One Thing


---
Featured Artist of July 29, 2020
with the songs: Alter Ego and Just One More Night

Artist's Biography:

Richard Allen managed bands for many years, seeking the best talent around Florida. Now Richard is coming out with his own songs, writing, arranging and handling the vocals. After meeting the great musicians who own a recording studio in Jensen Beach, Florida. Playing the all instruments Jeff and Bryan joined Richard on this project. Please enjoy these songs.


---
---
Notes for the artist
: This page will always be here under your name in "
Featured Artists"
You can al
ways send us an updated Bio using 'CONTACT' on Menu at the top of page.
---