JC & the Judas
---
Featured Artist of July 6, 2020
with the song: Ghost Dog

Bio JC & Judas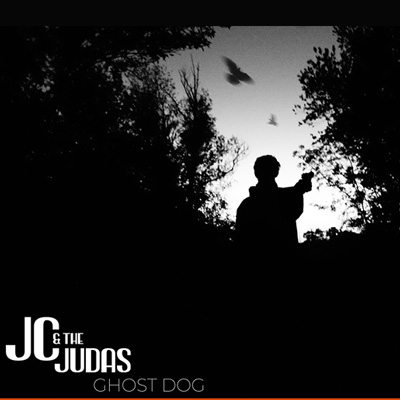 JC & the Judas is a mutant rock-folk group, that sometimes flirts with pop, led by JC Horgue. Singer and percussionist, throughout his musical wanderings he knew how to form around him a collective of musicians ready to get involved in this adventure.
JC HORGUE, was a drummer-percussionist in several pop, rock, blues, French, Canadian and American groups (Jim Zeller, Keith B Brown, Ron Smith, L. Golden, Cadi JO, Pudgy ...).
It was in 2005 that Jean Claude HORGUE (otherwise called JC) decided to create the JC & Judas group.
The history of the group can be split into two parts.
A first folk-Americana acoustic part from 2005-2015, during which the group changed and adapted its style, from quartet to trio, acoustic guitars and song.
For 3 years JC & the Judas perform in clubs in the South-West of France. 6 tracks EP "EPONYME", selfpublished and released in 2008. It was to be distributed by the label V MUSIC and received a very good reception from the critics (guitarist & bass, 33 rpm, web blog ...) as well as congratulations from Ben Parker (Ben & Jason) for the cover of his song "emoticons". This was followed by a series of concerts in Angoulême, Tours, Orléans, Paris and its outskirts, as well as the first part of the Australian group Jetty Road.
The group then begins a collaboration with the English writer Edward Radburn for the lyrics of the new songs. To give more volume to the Judas sound, JC decided to integrate more percussion and drum elements in the set.
A second electric part from 2015.
In 2015 the new EP "Right! It's a wrap" came out. It was recorded at AREMA (sound recording by Pascal Ricard) produced by JC and directed by producer and guitarist Fred Parcabe (Blue Oyster Cult, Dennis Dunaway [Alice Cooper], Jude, Tony Joe White, Cruxified Barbara, The Charlatans, American dog …).
Fred offered to expand the group's sound to make it more punchy and more electric. JC & the Judas then went from a trio to a collective ranging from 5 to 8 musicians: vocals, 2 or 3 guitars, bass, drums, trumpet, sax, keyboards.
JC & Judas signed a distribution agreement with KEYZIT, and a reissue of the first digital EP The EP was very well received by critics (rock & folk, Rockawa, internet blog) 2017 opening act of the Vieilles Canailles Matmut Atlantique stadium in Bordeaux (25,000 people), Sablons Picardie festival. Signing of a distribution contract with Inouie distribution for the previous EP "Right! It's a wrap. " and the new "Ep.03."
2018 May 4th release of a new, rockier EP: EP 03, recorded by Olivier Penicaut, mixed by Fred Parcabe and produced by JC. Release party on May 25 at the Exit 13 room in Pessac Release of the RIDE clip on June 4 Release of the Pouring Down clip on October 15 New chronicles in Rolling Stone and Rock'n Folk
and JUKEBOX. Rolling Stone includes JC & the Judas in its playlist alongside Radio Elvis, The KOOKS and GRANDADDY. JC & the Judas makes the front page of MSN. Congratulations from the American group Firewater for the cover of their song "Green Light". 2019 Tour dates in the west of France,
Toulousaine region, Aquitaine and Paris. Live radio broadcast on O2 "Les Acoustiques" TV7 "Ca repart en live" New music video "Little John" released on May 22. Broadcast by Jacky JLPP ON IDF1 (93) Concert at the Dame de Canton Paris Festival le Grand Soir in ST Emilion Release of the "Sweet Jenny Brown November" clip which will appear in 9 playlists and chronicles (Longueur d'Ondes-La Grosse Radio etc) 2020 Live TV performance on France 3's NoA POP January Successful completion of Crownfunding Ulule Maxi 45T vinyl campaign May 8 digital release of Maxi 45 T distributed by Inouïe The story of the Maxi Ghost Dog.
This Maxi 45T has two titles.
It is a prelude to a concept album that the group wishes to write and finalize throughout the year 2020 for a release in 2021 Indeed, the particularity of this project is to compose pieces about films which marked the group.
The goal is not to remake the film soundtracks, which are an essential part of the works, but rather to set to music the feelings and the images which have remained suspended in the band's minds, even if they may sometimes have been distorted by time.
This project, both cinematographic and musical, therefore begins with these 2 titles Maxi 45T: Ghost Dog, inspired by Jim Jarmush's film Vanishing Point, inspired by Richard C Sarafian's film.


---
Notes for the artist
: This page will always be here under your name in "
Featured Artists"
You can al
ways send us an updated Bio using 'CONTACT' on Menu at the top of page.
---

© LonelyOakradio.com