---
Full Album show of July 2, 2020
Album: Kings Of Time

Artist's Biography
Stone Circle lead by front man Jeremy Harry Harris came kicking and screaming into the world in May 2009. Months after forming, this power quartet from Perth, Western Australia performed at the after party for Def Leppard's Australian tour.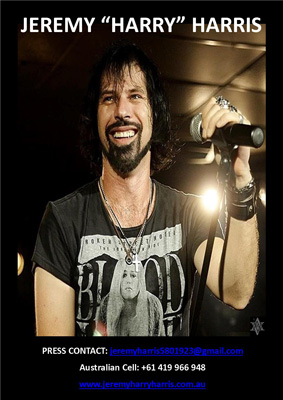 In 2009 Harry and his band focussed on song writing and pre-production. Their full length independent release 'Living for the Sunshine' was recorded in the first half of 2010 at Crank Recordings in Perth and mastered by Leon Zervos at Studios 301 in Sydney.
Harry produced powerful and melodic songs, drawn from a vast array of influences and genres. It's the attitude, mentality and approach of artists like Queen, Led Zeppelin, Van Halen, Bon Jovi, Robbie Williams and U2 that drives and inspires him.
Refusing to be pigeonholed, Jeremy Harry Harris also displayed his diversity, supporting iconic Australian artists including Daryl Braithwaite, Jon Stevens and Joe Camilleri.
Live, front man Jeremy Harry Harris delivers a tight, passionate and energetic performance with his touring backing band. Their enthusiasm is as contagious as their riffs. It is this foundation that sees Jeremy Harry Harris consistently deliver larger than life performances to an ever growing legion of fans.
These performances propelled the music of Jeremy Harry Harris and Stone Circle into the popular consciousness, securing them an invitation from Sir Bob Geldof to perform for the Rock n Rebuild Charity concert in Sydney 2013 and a second place in the coveted competition to support Bon Jovi. Front man Jeremy Harry Harris was labelled 'a true homage to the spirit of rock' by Mix 94.5FM's the Big Couch.
2011 saw the official launch of 'Living for the Sunshine' followed by extensive touring and promotion throughout Australia and overseas including festival performances in Cuba, Argentina and Columbia in 2012.
In 2013, Jeremy Harry Harris and his fellow Stone Circle band members commenced work on a new album. Together with his band, they continued to push the new wave of Australian rock music performing alongside established acts such as Birds of Tokyo, End of Fashion and Gyroscope during their writing sessions until finally disbanding in 2014 to pursue other musical projects, sadly never completing the promised new album.
The band took an indefinite hiatus from recording and performing live in 2014, to focus on individual career paths. Harry ceased all live performances except in Cuba where he made an annual pilgrimage to tour for 3 months from 2014-2017. It was during these tours that Harry developed his touring band and met Reinier Martinez Rodrigues. Rey convinced Harry to work with him and together they commenced preparations to return to the writers den.
In 2017 & 2018, Harry continued to write and work on the unfinished album including utilising his Cuban based touring band. The result is Kings Of Time, an album that features solo tracks and collaborative tracks from Stone Circle and Cuban based writer and producer Reinier Martinez Rodriguez and completed this year in his home town of Perth.
Jeremy Harry Harris has consistently travelled to Cuba to perform his music live in 2014, 2015, 2016, 2017, 2018 and 2019, utilising musicians from the Cuban based band Mephisto as his backing band.
In 2019 Harry returned to Cuba with a tour spanning March and April including performances at the coveted Pinar Rock festival, Romerias de Mayo Festival and numerous provincial shows throughout regional Cuba.
2020 sees the release of the long awaited album Kings of Time which will be accompanied with a tour of Central America and the island of Cuba.
2021 is shaping up to be a bigger year with return tours to Central America, Cuba and plans afoot for his first European Summer tour including England, Germany, The Netherlands and France.
When not touring, Harry continues to maintain a steady work load of local shows in Western Australia in addition to writing tracks for his next album and managing the Containers For Cuba registered charity organisation.
Media contacts should email mailto:jeremyharris5801923@gmail.com for more information and tour dates.
Website: https://www.jeremyharryharris.com.au
Instagram: https://www.instagram.com/jeremyharryharris
Facebook: https://www.facebook.com/HarryStoneCircle
Twitter: https://twitter.com/JeremyHarryHar1

Kings Of Time Track Listing
Track 1. Breathe
Track 2. Sister
Track 3. Kings Of Time
Track 4. See You See Me
Track 5. Go & Fly
Track 6. Get Back Up
Track 7. Sold Me Out
Track 8. Skeletons
Track 9. Break Your Heart
Track 10. Northern Lights
Track 11. When The Walls Come Down
Track 12. Tomorrow Never Comes
Track 13. Nothing Without You
Track 14. Find My Way Home
Special Bonus Track. Northern Lights (Extended Intro Version)

About the Album:
Release Date - 01st June 2020
Label - Rock Puppy
Genre - Rock / Adult Contemporary

Jeremy Harry Harris, the voice of Perth Rock band 'Stone Circle' is back after a lengthy absence with his first SOLO album that you can feel the love coming off of it. It's 14 tracks of music that includes 4 written exclusively by Harris, 6 written by Stone Circle and 4 by Harris and Cuban Producer Reinier Martínez Rodríguez, who also provides guitars, bass and keyboards". - Mark Diggins The Rockpit A journey into the mind of Harry, Kings Of Time is a canvas of his experiences touring South America and Cuba for the past 6 years. This album comprises musical craftsmanship, killer hooks and of course the story styled lyrics that fans of Jeremy Harry Harris have come to know and love. Hard Rock, Pop nu Punk, Dirty Grooves and Soaring Stadium Rock Ballads demonstrates easily that despite the departure of Stone Circle from the industry, Jeremy Harry Harris has more than enough to cater to the most discerning listener.

---