Jupiter In Velvet
---
Featured Artist of December 11, 2019
with the song: Stand Up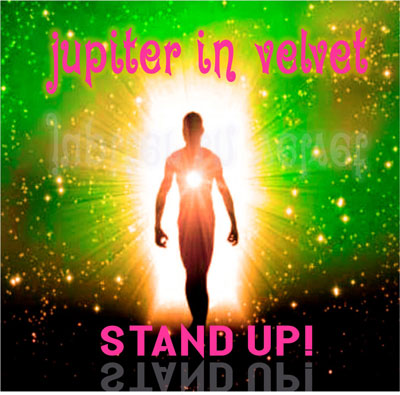 Welcome to the future. It is happening right now and in his own way, musician and songwriter Jupiter In Velvet is helping to lead the way. Some say he sounds like music of the past. Yet not quite. Jupiter is actually quite the musical alchemist. As one writer recently said about him "Few musicians and songwriters are as talented pouring old wine into new bottles as Jupiter in Velvet". His recently released EP entitled 'Anthems2Love' not only demonstrates more of his musical elusiveness to easy categorization, but it reveals in a near brazen, glossy gold the underlying inspiration to so much of his music - God.
Here are a few press quotes on his just released 'Anthems2Love': "the same kaleidoscopic passion distinguishing his prior collections spearheads his latest, an EP entitled Anthems 2 Love" Gwen Waggoner - Skope Magazine – Nov. 2019 "His music isn't insular and cut off from life; instead, it embraces life with a fervor few other musicians bring to the table" Jodi Marxbury - Daily Pop News - Nov. 2019
"His vocals are as unique as ever – rife with emotion and unique phrasing you'll hear from no other modern performer" - John McCall - Too Much Love Magazine – Nov. 2019 "Anthems2Love emphasizes both the immense stylishness of his songwriting and its conceptual inclinations" - Garth Thomas - Hollywood Digest – Nov. 2019 So who exactly is Jupiter In Velvet? He's a rock musician and songwriter. "A rock musician you say, I thought they were a dying breed?" Not quite, in fact not even close. Rock music is like the shape shifter in Terminator 2 and Jupiter In Velvet is one of its new evolutionary breed of aficionados. You could say that Jupiter is a musical cross-dresser, a transgenre musician with extensive rock roots and a big sonic wardrobe to keep things interesting. And to feed your curiosity even more, he writes very compelling, thought-provoking lyrics, looking at personal and social issues through the lens of spirituality.
Jupiter In Velvet's music is an unusual mix of different time periods and rock styles. One moment the song draws you in with a thread of familiarity and the next moment it surprises you with the unexpected. Regaled by critics for his masterful songwriting, Jupiter is a bit of a song seamstress weaving together the musical history of our lives into a colorful new aural tapestry, connecting the past Upload Photos (400sq) and music (wav or Mp3) - Use the pull down menu to select and present to create a new musical tangent. Drawing on influences from Little Richard through the White Stripes, one can hear bits and pieces of Led Zepplin, Hendrix, The Rolling Stones, Bowie, Beatles, U2, Nirvana, Velvet Revolver, Black Keys, Artic Monkeys, The Ramones, Prince and many more. Among the labels the music press and bloggers have given his music include; 'Alt-Pop Psychedelic Rock', 'Electro Dance Rock' and 'Alt-Punk' to name a few. But no matter how one tries to label Jupiter In Velvet, the label will never stick for his music is simply him and he is always evolving.
Many of those who meet Jupiter have the dichotomous feeling of meeting someone they've always known, yet have never met. Jupiter In Velvet is a man with a rather unusual background. Originally from the US with an English, Irish and Scottish heritage, he has been a musician nearly all of his life, learning the drums at 9 and playing gigs with his first band at age 10. In his teens he taught himself to play guitar, keyboard and singing, and began his songwriting development. His professional music career slowed down as he went off to college, getting a BA in marketing & psychology and an MBA in finance, before starting his PhD in finance. During his first semester working on his PhD, Jupiter stumbled into a chance trip to South Africa where he had an epiphany; Life was too short to place money in front of happiness and to not go after one's dreams.
Jupiter came back, finished the semester, quit school and moved to LA. He went on to play and tour for many years with a string of bands as lead guitarist and singer including: Big Mic & the Metallic Marauders, Zuzu's Petals, Woolton Parrish and 2MorroW EvR AfteR. Finally, after limited success, Jupiter moved to the UK in 2011 to remake himself and merge his vast musical influences and interests to create something new, compelling and uplifting. And thus, Jupiter In Velvet was born, releasing his first album in 2012 'Screaming The Love Behind The Scars' to much critical acclaim. Michael Morrison of EVOR Magazine said this: "In close, most famous artists out there have "it", I'm not so sure what that is but Jupiter In Velvet has whatever "it" is." Today Jupiter In Velvet's music is played in over 70 countries on 6 continents..

---
Notes for the artist
: This page will always be here under your name in "
Featured Artists"
You can al
ways send us an updated Bio using 'CONTACT' on Menu at the top of page.
---

© LonelyOakradio.com