Lifesigns
---
Featured Artist of July 23, 2023
With the EP: Live In The Netherlands


Artist's Biography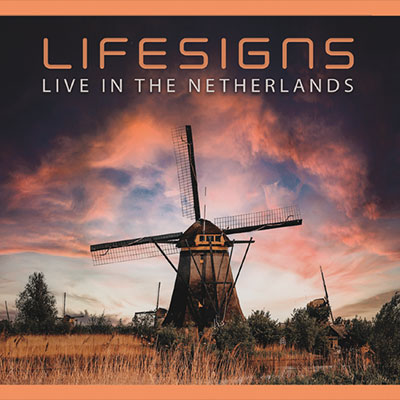 Lifesigns was the brainchild of John Young (keys/vocals), Frosty Beedle (drums), Steve Rispin (sound) and Nick Beggs (bass/vocals). Their first album, Lifesigns, was released in February 2013 and sold well, briefly reaching the UK top 100 album chart. Guests included Steve Hackett (Genesis), Robin Boult (Fish) and Thijs van Leer (Focus).

The band started touring the following year with Jon Poole joining to replace Nick Beggs who had other commitments. The line up was completed by former Steven Wilson guitarist Niko Tsonev. Fifty shows were played over the next year with highlights being appearances at Cruise To The Edge in the USA and Night of the Prog at Lorelei in Germany as well as the Ramblin' Man and Cropredy festivals in the UK.

In addition to this Live In London, a DVD and double audio CD was released. This was recorded at Under The Bridge at Chelsea Football Club.
In 2017 a new album Cardington was released. The album was funded via a pledge music campaign that met its target in just 48 hours. The album features guest appearances from Robin Boult (Fish), Dave Bainbridge (Iona) and Menno Gootjes (Focus). Niko decided to pursue his own solo career after having played on the album, and he in turn was replaced in the band by Dave Bainbridge on guitar and second keyboards. Cardington reached the top ten in the Amazon national chart and was number 4 in the UK Indie chart, all without any mainstream airplay.

In 2018 Lifesigns took to the road again with a third appearance on Cruise To The Edge and a UK tour. 2019 saw the band perform further live dates both in the UK and Europe.

February 2020 saw the release of the single Impossible, a radio friendly edit of the track from Cardington, which brought the band to a new audience. A short tour in March 2020 was to culminate in a fourth appearance on Cruise To The Edge in the USA, but the cruise has now been postponed to May 2022.

June 2020 marked the end of Frosty's time with the band and the arrival of Zoltán Csörsz.

The current album Altitude was recorded remotely without the band having met Zoltán in person (although you'd never guess that on hearing the intricate interplay between him and bassist Jon Poole) and released in March 2021. Tours are planned (lockdowns permitting) in November 2021 and April 2022, ahead of Cruise To The Edge in May 2022


About the Album

Recorded at De Boerderij, Zoetermeer, Netherlands on the Altitude tour in August 2022.



---
Notes for the artist
: This page will always be here under your name in "
Featured Artists"
You can al
ways send us an updated Bio using 'CONTACT' on Menu at the top of page.
---