Neil Taylor
---
Featured Artist of September 18, 2021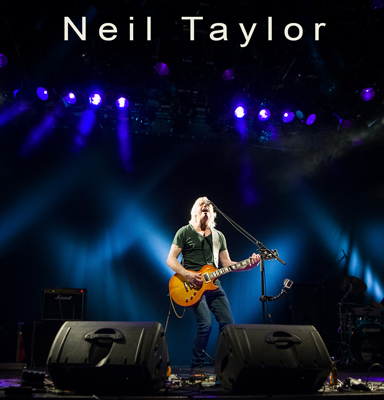 with the song: Don't Drive My Car


BIOGRAPHY
Neil Martin Taylor is a British guitarist who grew up in Bristol. As a teenager, he played in local bands before joining "Neon", featuring Curt Smith (Tears For Fears), Pete Byrne (Naked Eyes) and Rob Fisher (Climie/Fisher). He went on to form "Violent Blue" with bassist Charlie Jones (Page/Plant), later releasing the album "You Gotta Stay Young" with Magnet Records.

During this period Neil played guitar with Tears For Fears on the album 'Songs From The Big Chair', featuring the famous one take guitar solo on "Everybody Wants To Rule The World". Neil's involvement with Tears For Fears was long lasting, seeing him play on two world tours and the band's third album "The Seeds Of Love".
During his career he has recorded and toured with: Robbie Williams, Chris de Burgh, Natalie Imbruglia, Peter Gabriel, Rod Stewart, Morrissey, Tina Turner, The Pretenders, Van Morrison, Holly Johnson, Paul Young, Climie Fisher, and more.

In 2001, Neil was asked to play guitar on Robbie Williams album "Sing While You're Winning". He was then asked back to play on Rob's album "Escapology" and in 2003 he finally joined the Robbie Williams band and has toured the world several times.
Neil has been working on his solo career as an artist and recorded four albums so far which were all co-written with award winning songwriter Steve Torch, who has three Ivor Novello Awards and a BMI award for "Believe" by Cher.

The albums to date are –
• 2011 "No Self Control"
• 2011 "Chasing Butterflies" an acoustic album
• 2012 "No God Like Rock 'n' Roll"
• 2015 "SilverWing"

LIVE PERFORMANCES
Playing live solo or with his band, Neil is a powerful performer/entertainer and draws on his experience from working with a lot of the greats. He performs from his own repertoire along with some of the hits he was involved in over his 28 year session career. He has supported Chris de Burgh, Midge Ure and Joan Armatrading on their European tours and has played over 200 shows in the past three years solo and with his band. On New Years day 2014, he headlined in Euromaden – Kiev, Ukraine to over 500,000 people.


---
Notes for the artist
: This page will always be here under your name in "
Featured Artists"
You can al
ways send us an updated Bio using 'CONTACT' on Menu at the top of page.
---

© LonelyOakradio.com