Full Album show of February 12, 2021
Album: Almost Prophetic Visions And Thoughts

Artist's Biography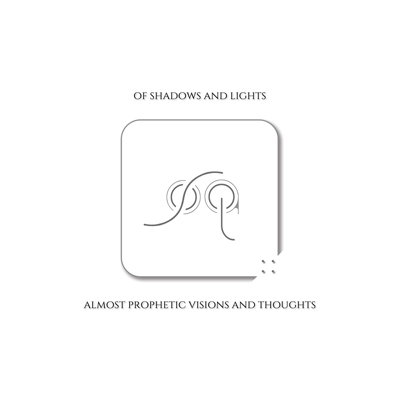 Of Shadows And Lights was born in 2018 and it's the moniker used by the Italian singersongwriter/producer Angelo Pitone. He's graduated with a Bachelor of Arts in Commercial Music with distinction at the UWS.

The triplet music-lyrics-photography is the poetry that tells the story of good and evil and of who we are as human beings. "Life is rarely peaches and cream. There's always something that is hidden from your eyes. It influences your decisions, and you can't control it. I think it's the daughter of modern society and the surreal days we're living" says Angelo. "You have to keep fighting head-on, and it doesn't matter if you go down because someday, you'll have something to tell. I like to create something beautiful from the darkness. It's a part of my creative process. Songs are like clay: I can decide how to shape it without never losing control, and 'Almost Prophetic Visions And Thoughts' is no exception".

It's a debut album made during surreal times caused by the COVID-19 pandemic, which has utterly upended the most fundamental principle of ordinary living. 'Almost Prophetic Visions And Thoughts' is a musical journey that faces several topics: isolation and depression induced by modern technologies, abandonment, betrayal, lack of empathy, survival in a world adrift, and ambient pollution.

Dive yourself into the notes of a record which flows fluidly and sharply with roaring electric guitars interwoven with synthesizers. Discover electronic music elements and classic instruments that blend together with powerful drum grooves, and enjoy the listening experience of a unique and creamy sound. Live the emotions and let yourself be guided by the images each song creates in your mind. Listen to the darkness to find out your light.

Of Shadows And Lights' music has been appreciated and supported by indie radio such as Radio Wigwam, Zoo Tap Radio, Lonely Oak Radio, TSFC Radio, Only Rock Radio. He got some exposure thanks to an editorial Spotify playlist All New Rock, Rockit, YMX, Fruit Sonic, and The Other Side music blogs.

Tom Hilton from The Aldora Britain Records and E-zine claimed: "Angelo Pitone delivers a blistering example of explosive contemporary indie pop. He clearly has the knack and the talent to write gargantuan songs".

Colm Slattery from Fruit Sonic music blog said: "Of Shadows and Lights goes for a timeless sense of grace on the gargantuan grooves of 'Universal Thing'. Sung with passion, the way his lyrics inspire feels undeniable. A clever mixture of new wave and indie pop the song shines with a tremendous degree of lightness".

Angela De Gregorio from the Italian music blog Musyance said: "Of Shadows And Lights showcases a mix of grit, passion, energy and desire to dare. His debut album is attention to detail, explosive, elegant and modern".


About the Album

The record was written, produced, arranged, and mixed by Angelo itself. He just graduated with a Bachelor of Arts Commercial Music with Distinction awards at the UWS - the University of the West of Scotland. 'Almost Prophetic Visions and Thoughts' has as guests: Maestro Giuseppe Bolognini on the guitars, Claudio Giraudo as a co-author and guitar solo in 'Awakening', and Michele "The Third Eye" Sassanelli on photography. The album bears the signature of a giant of the music business: Giovanni Versari (Muse, Nic Cester, Calibro 35, Ministri, Negramaro), who has mastered it at the Maestà Mastering Studio in Tredozio, Italy.

Credits
Producer: Angelo Pitone
Executive Producer: Angelo Pitone
Musicians: Angelo Pitone, Giuseppe Bolognini, Claudio Giraudo stands out in 'Awakening'
Recorded by: Angelo Pitone
Mixing Engineer: Angelo Pitone
Mastering Engineer: Giovanni Versari
Sleeve Design: Angelo Pitone
Photography: Michele Sassanelli

For fans of: Queen, Muse, Led Zeppelin, Nothing But Thieves, Coldplay, U2, The Intersphere, The Dear Hunter, As Tall As Lions, Train Green Day, Foo Fighters.