Full Album show of May 6, 2020
Album: Really Small Town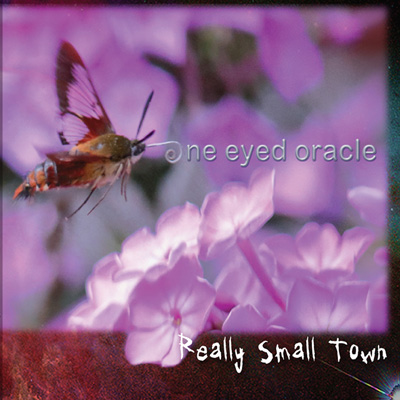 Short Bio – One Eyed Oracle is Boris Buhot (Be-You-O) a Toronto based, multi-instrumentalist, singer, songwriter with a powerful collage of alternative-grunge-folk styles, which migrate through themes of social awareness, inner truth, and outer change.
One Paragraph Bio – Boris Buhot (Be-U-Oh) the singer-songwriter behind One Eyed Oracle, was transformed by that musical era between the Beatles and The Smiths. Since his debut album 1041, produced under the guidance of Wellesley Sound Studio's Jeff McCulloch, Buhot has since released several singles including REALLY SMALL TOWN and is finishing production on another full-length album to be released under his new nom de plume "One Eyed Oracle." His thought provoking music, and versatility as a vocalist/multi-instrumentalist has stirred Now magazines Gary 17 to write "powerfully original, talented and compelling, menacing energy, and a passionate artist". 1041, the follow-up debut album to the EP, We'll Be Flying, were both released under United Truce. Buhot's songs resonate with a sweeping range of ideologies based around themes of mother earth, social justice, the human condition, and with a personal philosophy around Earth, spirituality, responsibility, and brotherhood.
Full Length Bio – One Eyed Oracle is the artistic embodiment of Boris Rene Buhot, pron. (Be-You-O). Buhot is a Canadian born, multi-instrumentalist and independently produced recording artist / songwriter from Toronto Ontario.
In 2017, Buhot played in a group with Rob Kennedy, the lead guitarist of Refugee (Chrysalis/Polygram), & Randy Begg, drummer of Wednesday (Ampex /A&M), and were looking for a band name. While waking from a dream, Buhot heard the words "one eyed oracle," as if hearing a vision, and immediately bought the rights. Ultimately the group were forced to reassess newly found priorities, leaving Buhot to devote all his time on his studio album, while keeping the name.
Boris Rene Buhot was born on July 27, 1962 and raised to appreciate the traditional European and cosmopolitan music styles his parents enjoyed at home, but his first love were albums his eldest brother owned, like Disraelis Gears, Beatlemania, and Revolver. Buhot started taking piano lessons at a very early age and in just a couple of years wrote the piano part to the one note song "Break Free."
His thirst quickly spiralled from AM pop to Rock to FM alternative, which could only be heard on Toronto station CFNY, (Rush's "spirit of radio"). Artists such as, Teenage Head, the Clash, the Sex Pistols, and the new wave bands were direct influences when he began writing and playing in a high school band with his best friend Doug Rodriguez. They co-wrote "Black Days" together in 1979. "It was a dream come true, until all our gear was stolen. That's when I went out and purchased my first bass and a TS50 traynor bass head, with a massive 2 x 15-inch speaker cabinet, which I had to, forever after, break my balls hauling around."
1976-1981"Monarch Park Secondary School became a breeding ground for amazing talent. There was a huge event we helped pioneer called Monarch Jam. One year, we also had a talent show, which gave me a chance to finally front the band. Comedic genius, Alan Park of Canadian Air Farce fame played bass in my stead. "We played "Sweet Transvestite" from the Rocky Horror Picture Show and, "Monster Mash" by Bobby Pickett, and no one else was brave enough to sing, so I did it. I was dressed the part of Frank N furter, and we had a huge entourage, Brad and Janet, the party goers, the works, and everyone was dressed up along with the band. When the time came in the song Sweet Transvestite, to undress my doctors smock to reveal my Tim Curry get-up I'd stitched together using school colours, the buttons got stuck, so I just ripped it wide open like a flasher, and all the buttons flew into the seats. When I sang "Monster Mash", I held that smock so tight with one hand while holding the mic in the other and when I said "tell them Boris sent you", it prompted a huge roar from the 800 in attendance. That evening was one of the most terrifying and exhilarating moments in my heterosexual life simultaneously. I not only caught the bug to sing, but also to act, and all in under 10 minutes, and became a tolerant human being at a time of prevalent homophobia."
In 1986 Buhot joined the alternative synth band Shock Culture, who had just released a self-titled EP through Gryphon Records. In addition to Buhot on bass, the band also added Mark Lennon on drums. The EP charted nationally based on the sheer power of hitting number 1 in Toronto and number 3 in Vancouver right behind 5440. As Buhot's bass playing evolved, several major distributors courted them. The attention failed to inspire the lead vocalist, and he left the group for a career singing jazz, while leaving the remainder with only memories of their hard won potential.
Buhot put his professional music aside, to work from home and help raise his three children before awakening to address the fire of not fulfilling his lifelong ambitions. Buoyed by the digital revolution in recording, his first EP was launched titled "We'll Be Flying." We'll Be flying was a three song production with his dear friend John Wilks contributing to percussion and lead guitar. John Wilks is a master class singer songwriter (Cold Northern Town) of his brother Frank Wilks' calibre, (lead vocalist Buffalo Springfield Revisited). John Wilks who recorded his master piece at Wellesley Sound Studios, introduced him to the diamond award recording engineer/producer Jeff McCulloch. We'LL Be Flying was released under the name United Truce.
The story goes that Buhot dreamt of his Dad answering his distress call in Oct. 2006, and when Buhot woke from his dream, he remembered that the number he had called, ended in the digits 1041. One year after that, Buhot started his untitled full-length album with Mark Lennon (Steven Ambrose/Shock Culture) on drums. After Wellesley sound studios' Jeff McColloch, mastered the CD the first thing the CD player displayed were the digits 10:41:00. The length was precisely 41 minutes. That coincidence left Buhot and Jeff McCulloch in shock, as they already knew they had been working on 10 songs, but had no idea of it's total length. Buhot had the sense months earlier, to write "1041" on his studio logbook, and to show Jeff McColloch. "I said, don't forget this number." The dream and the amazing result culminated in Buhot having his call answered not just once, but twice by his Dad, first in the dream, and again in real life, a bitter sweet moment since his father had since passed away before hearing the music he helped create, as the entire album was produced with the money received in the inheritance.
Undaunted, and after receiving encouraging rotation across North American college radio, Buhot kept working on his craft, writing better and better songs. Sometimes completing them in minutes while others like ALL I AM took years. He says, "I love the way that ALL I AM stayed with me. I loved the music and I finally finished the lyrics from the perspective I had finally grown into". While the music was complete teenage angst, the soulful lyrics represent wisdom few other 18 year olds could have written, hence the span in time finishing the song. ALL I AM originally charted at University of Toronto's CIUT radio, and Buhot was invited to perform live with the late Nik Beat on the Howl. ALL I Am was re-incarnated with a new drum and bass track and reissued on the album Really Small Town by One Eyed Oracle.
In the spring and summer of 2015, Buhot started production of what turned out to be the 9-track album "Really Small Town", and completed it on 02/02/2020. The album began with drummer Matt O'Rourke, (Shawnee, Kris Barclay) who Buhot had befriended after completing 1041. O'Rourke a grad of the prestigious Performing Arts School in LA is the gifted nephew of Canadian blues great Jack DeKeyser and owner of Matto Music.
When Buhot searched the words "one eyed oracle," on Google the morning of November 27, 2017, it drew an amazing, and heart resonating 41 results.
Influenced by Psychedelic to Glam rock, Classical to Punk, Rockabilly to Ska, Blues to Funk, and Folk to Reggae, highlights include Bowie, The Beatles, BTO, AC-DC, Nazareth, The Clash, The Sex Pistols, 999, The Pretenders, Bob Marley, Radio Head, World Party, XTC, REM, U2, Echo and the Bunnymen, Depeche Mode, Cult, Tears for Fears, The Ramones, Teenage Head, Smiths, New Order, John Martin, Neil Young, Hot House Flowers, Blondie, and many incredibly gifted independent artists from the Greater Toronto Area and beyond that remain local legends, and heroes.

About the Album:
02/02/2020
Alternative (punk-pop-indie-rock-folk-reggae)
SONG Selection/Genre Alt-Rock 1-2-5, Alt/Pop 3-4, Folk 6, Reggae/Political 7, Hot AC 8-9,
1) uscgh2093863 Broken Trail of Lies /Buhot 4:10 Brassy Alternative Rock Musicians Boris Rene Buhot, Matthew O'Rourke, Jeff McCulloch, Bruce MacKinnon
2) uscgh2093864 ALL I Am /Buhot 4:34, Alternative-Grunge-Punk Musicians Boris Rene Buhot, Matt O'Rourke
3) uscgh2093865 Break Free /Buhot 2:51 Alternative Pop Musicians Boris Rene Buhot, Matt O'Rourke
4) uscgh2093866 I'LL See You /Buhot 2:57 Alternative Pop Musicians Boris Rene Buhot, Matt O'Rourke, Jeff McCulloch
5) uscgh2093867 Black Days /Buhot-Rodriguez 3:15 Alternative-Grunge-Punk Musicians Boris Rene Buhot, Matt O'Rourke, Frank Zochodne
6) uscgh2093868 Cast Away /Buhot 3:40 Folk Rock Musicians Boris Rene Buhot, Matt O'Rourke, Ed Michael Roth
7) uscgh2093869 Really Small Town /Buhot 3:56 Reggae/Political/Orchestral Musicians Boris Rene Buhot, Matt O'Rourke, Kalask(David Dawkins), Tom Gannon Hamilton 8) uscgh2093870 She's Everything /Buhot 4:13 Hot AC/Emotive Uplifting Tribute Musicians Boris Rene Buhot, Matt O'Rourke, Tom Gannon Hamilton, Rob Kennedy 9) uscgh2093871 Love So Hard /Buhot 4:13 Hot AC/Emotive Uplifting Musicians Boris Rene Buhot, Matt O'Rourke, Jeff McCulloch, Rob Kennedy.


---