Paul Maged
---
Featured Artist of Aug 20 2023 and Aug 26 2023
With the EP: Crossroads


Artist's Biography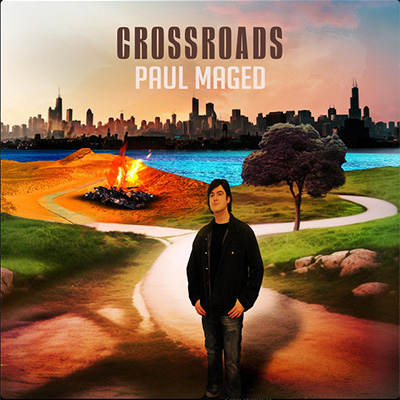 For Immediate Release: Paul Maged announces the release of his new five song Alternative Rock EP, "Crossroads". This marks Maged's 6th album and first since his ambitious full-length opus, "Culture War" in 2020. Written and Self-produced by Maged, and mixed by Chris Sheldon, who engineered the Foo Fighters breakthrough record, "The Colour and the Shape", 'Crossroads' is being released on August 19th, 2023 and will be available on all major streaming platforms. From Boston to NYC, Paul Maged has been a mainstay on the music scene for well over a decade. Maged has been written up in The Huffington Post, Popdose, The Examiner and Alternative Nation among others. The latter hailed Maged's 2020 album, "Culture War" saying, "Maged is a five-tool musician in an era where that skill set is worth it's weight in gold. Paul Maged sits perfectly in that Foo Fighters, Weezer and Queens of the Stone Age neighborhood of Alternative Rock."
"I titled this album, 'Crossroads' because I'm at one personally and our country is at one as well. I wanted to explore the relationship between the internal struggle of every human and the external struggles of our society."
With socially conscious songs such as the title track, "Martyr War" and "Burn it to the Ground", Maged continues his no holds barred approach of speaking his mind about the world we live in.
'Burn it io the Ground', is an epic rock burner with a sizzling guitar solo. The song tells the story of our evolution, and the progress born out of that evolution, that is methodically being torn down. "This was the song that connected societal ills with personal demons for me. Sometimes we have to fall down and reimagine ourselves before we can recreate something new and stronger."
The album closes with the acoustic guitar driven melodic title track, "Crossroads", a song that Maged says is about depression and suicidal thoughts. "I encourage anyone with those thoughts to try and talk to someone, anyone, before it's too late. The song also has a hope, yearning and love throughout but only because I was able to come out the other side." Paul Maged's Credits Include:
• Placement on UFC Fight Pass for hard rock song, "Fight to the Death"
• Pre-Grammy nomination in the Best R&B category for his song, "No More Love Tonight"
• Placement on MTV's "Think Again Sex Myth's Revealed" for his pop song "Falling Down"
• Honorable mention certificate in Billboard's songwriting contest for hard rock song, "The Wild"
• Alt Rock finalist in the Great American Songwriting Contest for Alt Rock song, "Images"

Crossroads album credits:
Music & Lyrics by Paul Maged
Electric/Acoustic Guitars: John Polimeni, Ziv Shalev
Produced by Paul Maged
Bass: Mark Prentice
Mixed by Chris Sheldon
Drums: Dan Konopka (OK GO)
Mastered by Elliot James Mulhern Strings: Richard Curran
Keyboards & Piano: Paul Maged



---
Featured Artist of July 19, 2022
With the song: Everything's Gonna Be Alright


Artist's Biography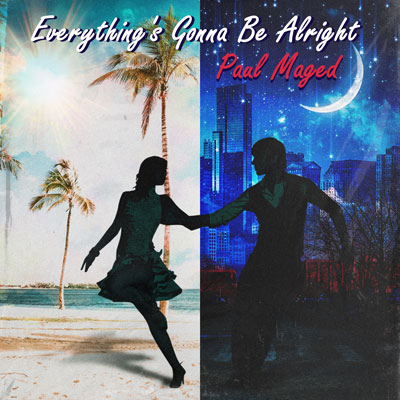 Paul Maged was born in Boston, MA and grew up in Framingham, Mass. By the age of ten Paul was writing music and lyrics after his father bought him a tiny Casio Keyboard to learn on. Paul's father enrolled him in private study at The Boston Conservatory of Music where he took music theory and studied opera under the tutelage of Donald J. Bravo. Maged moved to NYC fresh from high school and attended The American Musical & Dramatic Academy. From there he began a decade straight of writing and performing stand up and sketch comedy including background appearances on SNL and appearing in several independent films including film festival winner "Bobby G. Can't Swim".

After Maged's father suddenly passed away he turned back to his first love, songwriting, as a form of therapy. Maged threw himself into the writing process and built a relationship with a multi-platinum recording studio in Manhattan who helped produce what would essentially become a double album, 17 song rock opus called, "Diamonds & Demons". The album was named #1 album of year by Monoblogue Music. Popular music blog Popdose wrote, "Paul Maged proves Rock N Roll isn't dead, it just needed a reason to get out of bed in the morning".

After that album Maged started writing and recording new music. He had recorded enough material for another full album but instead decided to release the new music as a trilogy of EP's. The first EP was titled, "Light Years Away" and was released in October, 2017. It was quickly written up in such blogs as The Huffington Post who wrote, "Light Years Away has much to offer: attractive melodies, pulsing rhythms and compelling lyrics."

Maged followed "Light Years Away" with "The Glass River" in March, 2018, which included more socially conscious songs such as "Gunz 4 Hire" about gun control and "For the Sea" about climate change. "The Glass River" garnered critical acclaim with Alternative Nation saying, "Once again, Paul Maged has proven why he is one of the most exciting and unique artists working in the alternative forum".

Paul's final EP in the trilogy titled, "Fight to the Death", was released on June 17th, 2019. The title track earned placement on a UFC Fight Pass promotional video. Of the EP Alternative Nation claimed "Paul Maged's 'Fight to The Death' Is the EP Of the Summer" and Respect My Region wrote "NYC's Paul Maged continues to rise".

Maged began to write and record new music with the desire to release a full-length LP. With half the album recorded the Covid pandemic hit and Maged was locked out of his longtime studio, losing the master files to several songs he recorded, of which his longtime producer never returned. Maged rerecorded, self-produced and released the album on his own. Maged called the album, "Culture War", his "most personal writing to date politically and emotionally". He released "Culture War" on Election Day 2020.

Of "Culture War", Tattoo.com said "Surging with visceral alt-rock and punk savors, Culture War delivers music rife with muscle, pounding rhythms, and the deluxe lyricism of Paul Maged".
After the emotional drain of the prior experience, Paul slowly began to write new music early in 2021. "After completing and releasing my last album, 'Culture War', I was emotionally spent. I wasn't sure I wanted to write or release any more music. I needed a change of scenery and decided to make a major life transition, moving to the Palm Beach area in Florida. Immediately I felt a change within as I started to connect with nature; the ocean, the sun, the wildlife, the palm trees, all inspired me. I started writing again and this song poured out of me in less than a couple of hours. Lyrically I wanted something that combined the romanticism and grittiness of the city I left, NYC, with the tropical island feel of the city I moved to, which has filled me with feelings I had previously lost; positivity, love and gratefulness."

After completing the writing and recording, Maged thought it was a song that deserved to stand on its own, excited about the departure the song took him on musically. Maged decided to release "Everything's Gonna Be Alright" as a standalone single until his next EP is complete.

Maged produced the song himself but brought in an extremely talented musician to mix and master the song, giving the song a fresh vibe. Dan Konopka of the Grammy winning band 'OK Go' engineered and mastered the song. Paul Maged releases "Everything's Gonna Be Alright" on July 19, 2022.

Paul Maged's writing credits include:
• Fight to the Death earned placement on UFC Fight Pass & Titan Fighting promotional videos
• Pre-Grammy nomination in the Best R&B Song category for his song, "No More Love Tonight".
• Placement on MTV's "Think Again Sex Myth's Revealed" for his song "Falling Down".
• Alt Rock song "Images" was a finalist in the Great American Songwriting Contest
• Hard Rock song "The Wild" earned honorable mention in Billboard's World Songwriting Contest.
• Placement for songs "Look at Me" and "Last Days" in UK Indie film "Golden Child"

Contact Info & Socials:
Paulmagedmusic@gmail.com
www.instagram.com/paulmagedmusic
www.youtube.com/paulmagedmusic
www.twitter.com/themagedman

---
Full Album show of Nov 1, 2020
Album: Culture War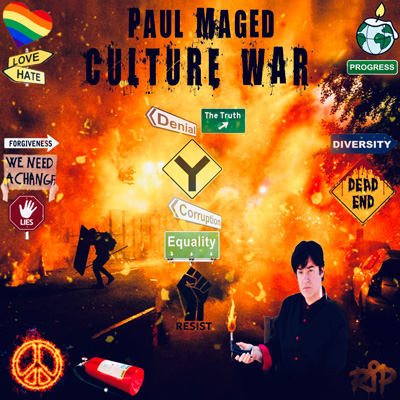 Artist's Biography
Paul Maged announces the release of his new Rock LP, "Culture War". This marks Maged's 5th album and first full-length album since 2014's, "Diamonds & Demons". Self-produced by Maged, "Culture War" is set to officially wreak havoc worldwide on Election Day, November 3rd, and will be available on all major streaming platforms.

"This is my most personal collection of music, both politically and
emotionally."

With socially conscious songs such as the title track, "Lose Your Privilege" and "Cult 45", Maged continues his no holds barred approach of speaking his mind about how he views our culture and current political climate.
"Nobody writes protest songs anymore. Major artists used to write protest songs. Stevie Wonder, Marvin Gaye, Bob Dylan. You just don't see that anymore because all popular artists today are so neatly packaged to appeal to the masses and no one wants to ruffle any feathers. I may not be a big artist but I have to speak my truth and I know I'm not alone in how I feel."

Finding his truth wasn't easy this time around. The writing process was at times painful. Maged began to write "Lose Your Privilege", a hard rocker about white privilege and how that privilege plays out in politics, often times with leaders making decisions at the peril of those less fortunate. Then George Floyd was brutally murdered and the song took on a different tone. "I changed some of the lyrics to reflect the overall theme of white privilege which is much broader than just politics, it's systemic and deeply rooted everywhere throughout our country and society."

"Cult 45", a punk rock infused anthem that showcases scathing lyrics dripping with sarcasm, had to be rewritten several times. "I recorded the full vocals but this guy reaches new lows every day so I had to re-record parts of the lead vocal to keep the lyrics up to date with his constant wreckless and corrupt actions and behavior".

"Culture War" has plenty of protest songs but Maged wants it known that much of the record discusses non socially conscious themes that everyone can relate to. "I had a lot to get out on this record. It was a two-year therapy session".

"Shine On Your Light" is the very definition of a therapy session. Talking to his late father Maged wonders, "I feel a hole within. Can you see from above? Can you view my old sins? Can you still measure love?"

The song becomes a back and forth dialogue between Maged and his father. "Before my dad died, he had become a licensed therapist and practiced Gestalt therapy. In Gestalt therapy there is an exercise called the 'empty chair exercise' where you sit and have a discussion with a loved one who has passed. My mom had died a few years before my dad at the age of 46. I had so many unanswered questions. My dad told me about this chair exercise and suggested I try it with my mother. I wasn't ready at the time. Then he died just months after I had this conversation with him, at 56 years old, and ironically, it's during this song that I tried this exercise and had that discussion, but instead with him. It was a very hard song to write."

"Culture War" is not all heavy. "We Are" is a pop ballad Maged wrote immediately after seeing "A Star Is Born" in the theaters. "I was so inspired by that movie. I felt very positive and artistic afterwards. It was filled with such love and support of art and humanity that I had to write something. I came straight home and wrote this song in less than an hour. My real wish is that Lady Gaga would sing it".

Dreams play a big part of "Culture War" the album. Following our dreams but also failing at our dreams. "You always hear people say 'follow your dreams, you'll make it, I know you will if you just believe', but the truth is most people don't 'make it'. Most of the time our dreams don't come true. I wanted to write about dealing with those sort of bittersweet, melancholy feelings". Of that two songs were born, "The Saturday Scene", about Maged's standup comedy days, and "When Dreams Don't Come True". These songs fittingly close out the album.

"Culture War" is the first single to be released off the album and is accompanied by a 3D animated video produced by MY3D that Maged wrote the concept for. Other songs with videos include "Cult 45", "When Dreams Don't Come True", "We Are" and "The Saturday Scene".

Album Credits:Contact:
Produced by Paul Magedpaulmagedmusic@gmail.com
Music & Lyrics by Paul Maged www.paulmaged.com
Keyboard, Piano, Bass, All Vocals: Paul Maged youtube.com/paulmagedmusic
Lead Guitar: John Polimeniinstagram.com/paulmagedmusic
Drums: Marc Hoffmantwitter.com/themagedman
Album Cover Art by KMDESIGNZ
Recorded at Paul Maged Studios, NYC

Paul Maged Credits:
Placement on UFC Fight Pass for hard rock song, "Fight To The Death"

Pre-Grammy nomination in the Best R&B category for his song, "No More Love Tonight"

Placement on MTV's "Think Again Sex Myth's Revealed" for his pop song "Falling Down"

Honorable mention certificate in Billboard's songwriting contest for hard rock song, "The Wild"

Alt Rock finalist in the Great American Songwriting Contest for Alt Rock song, "Images" About the Album: 2020 Rock



---
Full Album show of June 16, 2019
Album: Fight To The Death


4"The ultimate win is still the war within that goes on and on and on…" Paul Maged is back and ready for a fight as he releases his long awaited EP "Fight To The Death" (FTTD). FTTD is the third and final album in Maged's EP trilogy, following "Light Years Away" and "The Glass River". FTTD was delayed when Maged decided to release his political protest song, "The Resistance", in October 2018. FTTD will be released on June 17th and is produced by Maged's longtime Producer Sean Gill of The Passengerz. The album will be available worldwide on Spotify, iTunes, Amazon and more.
While the prior two EP's were more socially conscious, highlighting issues such as gun control and climate change, "Fight To The Death", save for "The Resistance" which closes out the EP, intentionally explores different sides of the human consciousness. About the EP Maged says, "I really wanted to peel back the mask to be able to express certain emotions. I was lyrically focused on purity of thought without inhibitions."
The title track "Fight To The Death" explodes with hard rock energy, showing Maged on a mission to survive and prevail but like many of Maged's songs there is duality in its meaning. For Maged FTTD is a metaphor for fighting one's own demons, the battle within. "Life Goes By" changes gears musically, infused with Hip Hop and R&B vibes culminating with a Maged beat box. It expresses the premise of grabbing life by the horns before it goes by "in the blink of an eye". "Nightstalker" is a fun, sexy rock star fantasy about a woman who holds all the cards and the man who is hypnotized by her. "Off In The Distance" showcases Maged's songwriting as it tells the story of a man who's "counting memories", reflecting on a past relationship, trying to move on but being brought back to the same place he was before. Following the albums final full length song, "The Resistance", Maged brings the EP back full circle with "Illusions Go By", which combines a brief Life Goes By reprise with a snippet from a new song called "Illusions", which will be released on Maged's next album.
Maged is featuring two songs from the EP as singles. The title track "Fight To The Death" which is featured in the new Titan Fighting Championship & UFC Fight Pass promo, promoting their big event on UFC Fight Pass on June 28th, 2019 to 150 countries around the world, and "Life Goes By". Each are accompanied by music videos which are among the strongest Maged has to date including an animated FTTD video that Maged wrote the story for.

---
Notes for the artist
: This page will always be here under your name in "
Featured Artists"
You can al
ways send us an updated Bio using 'CONTACT' on Menu at the top of page.
---