Pompadour
---
Featured Artist of December 17, 2019
with the song: Point Blank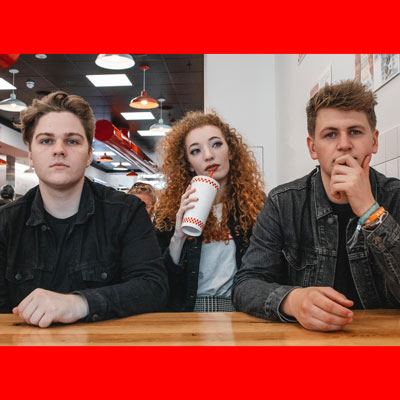 Bristol UK based indie rock band Pompadour have released their debut EP 'Cut To The Chase' on all major platforms with a CD and tee shirts via their Official Website. Front lady Tamsin Sayers (vocals, bass) says lead single 'Point Blank "is about conflict, and how somebody's mood can completely affect everything else. I find that if I, or somebody else is in a bad mood, it can really change the atmosphere of the whole room."
The band was founded early 2018 after college friends and bandmates, Tamsin Sayers (vocals, bass) and Kearney Day (guitar) left their previous band and created their own project with their best friend, Toby Holbrook (drums). Having played on the Discovery Stage at the sprawling Bristol Harbour Festival and at a flagship Nambucca, London they have since gone on to open/play main support for touring bands including The Seahorses, The Novatones and Spector in other cities and gained more fans.
Hot on the foot from two acclaimed singles which both garnered a breadth of stellar reviews and national airplay on Planet Rock, BBC Upload, and most recently BBC Introducing the band believe 'Cut To The Chase' is indicative of their own gritty style of melodic indie rock. Bearing a catchy appeal to fans sat in either camps, this release will also appeal to the more casual of listeners and is a dip of the toe in the ocean of their songs to come.
'Cut To The Chase' features 5 original tracks and was produced, mixed and mastered by Tom Cory at Bath Spa recording studios.
With shows and festival slots for 2020 to be announced, the trio are excited to bring their own blend of indie rock, relatable and edgy songs with a fun and alluring stage presence to all. There's nothing pompous about Pompadour..

---
Notes for the artist
: This page will always be here under your name in "
Featured Artists"
You can al
ways send us an updated Bio using 'CONTACT' on Menu at the top of page.
---

© LonelyOakradio.com