Ruzz Guitar's Blues Revue
---
Featured Artist of February 8, 2020
with the song: Movin' On

'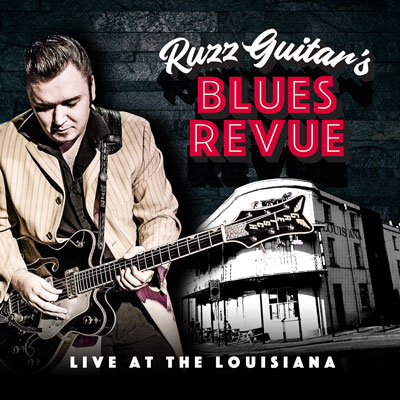 Ruzz Guitar's Blues Revue' -
A powerful, Soul injected Blues/R'n'B/Rock'n'Roll band hailing from Bristol UK and lead by Gretsch endorsed guitarist Ruzz Guitar. After taking inspiration from many great guitarists such as Wilko Johnson, Brian Setzer, Jim Heath and Jimmie Vaughan, Ruzz has developed what he has learnt into his own style which is quickly becoming recognized around the globe.
After a few years of playing with multiple Blues and Rockabilly band's from Bristol and Bath and playing all over the UK and Europe, Ruzz decided to put together this Blues/R'n'B/Rock'n'Roll band to showcase his unique, multi-genre guitar playing and song writing. Joining forces with drummer Mike Hoddinott and upright bassist Joe Allen from Bristol, they come together to create the unique sound that is "Ruzz Guitar's Blues Revue". In April 2016 they added the three piece horn to the line-up, creating the bigger sound of Ruzz Guitar's Blues Revue with the creation of "The Big Band". 2018 sees the release of the first "Big Band" album entitled 'The Heist'.
Since the band started in 2014 they have been going from strength to strength.
- They have opened for, and shared the stage with, many well-known artists such as Dr Feelgood, Innes Sibun (Robert Plant), Jon Amor (The Hoax), Pete Gage (Dr Feelgood), Kirk Fletcher (The Fabulous Thunderbirds/Joe Bonamassa/Solo), The BlockHeads (Ian Dury & The Blockheads), Bill Kirchen, Darrel Higham (Imelda May/Jeff Beck/Solo), Kid Ramos (James Harman/The Fabulous Thunderbirds) and Junior Watson.
- They have self-released two albums and released one with Rhythm Bomb Records which have amassed multiple plays on multiple independent and internet radio stations around the globe including "Hank's Americana Radio" and 90.1 FM KPFT "Howlin' The Blues" broadcasting out of Houston Texas, BBC Radio Wales during Adam Walton's "BBC Introducing" Show broadcasting from the UK and Banks Radio Australia to name a few.
- The most recent album release ("The Heist" – November 2018) features special guests Pete Gage (The Jet Harris Band/Dr Feelgood/Solo) & Tommy Harkenrider and has been receiving rave reviews and reached number 25 in the IBBA 2018 Top 50 album chart.
- They have played all over the UK and had very successful tours of Europe (July 2015) and the USA (April 2017 & January/ May 2018) which have led to plans for future tours.
- Ruzz has also been honoured by being officially endorsed by Gretsch Guitars (September 2016). In March 2017, he was made the "Featured Guitarist" on the official website for Gretsch Guitars (www.gretsch.com)
- September 2017 saw Ruzz used as the front cover image for UK Rock'n'Roll Magazine with a three page feature on the band.


---
Notes for the artist
: This page will always be here under your name in "
Featured Artists"
You can al
ways send us an updated Bio using 'CONTACT' on Menu at the top of page.
---