Say Yes, Do Nothing
---
Featured Artist of March 23, 2020
with the song: Making it die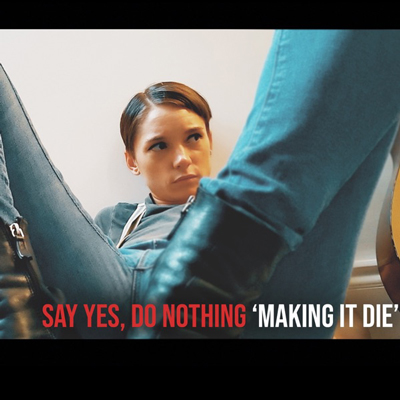 Punchy, gritty, catchy Yank rock: Say Yes, Do Nothing (SYDN) are a four-piece guitar-driven original rock band from north London.
Winners of the 2018 Future Music Showcase Award, SYDN writes songs that are raw and poetic street reports on personal experiences with homelessness, abortion, abuse and alcoholism. SYDN's unique sound is neatly fused together with vocal harmonies, guitars, harmonica and mandolin.
Founding members Dave (lead vocals/rhythm guitar) and Simon (bass/backing vocals) met Michael (drums/backing vocals) at a gig in Kentish Town in late 2018. Soon after, Dan (lead guitar/backing vocals) joined after answering an online advert. Singer/songwriter Dave hails from the USA, where his previous band's album was named the Los Angeles DIY Album of the Year ('Apron Strings' by Breech) and featured on the popular 'Dawson's Creek' TV show. SYDN has just released their rst video, 'Making it Die', with Neon Temple productions.
SYDN has headlined around London, playing gigs at 93 Feet East, The Spice of Life, Hope&Anchor, The Water Rats, The Fiddlers Elbow, The Rocksteady and the Marlow Rock Bottom Festival.


---
Notes for the artist
: This page will always be here under your name in "
Featured Artists"
You can al
ways send us an updated Bio using 'CONTACT' on Menu at the top of page.
---

© LonelyOakradio.com