SixTwoSeven
---
Featured Artist of Oct 6, 2020
with the songs: The Mistrial - Motormouth

Artist's Biography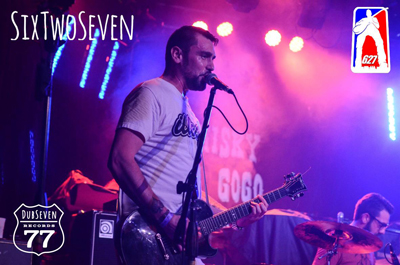 SixTwoSeven is an American alternative rock and roll band out of Gig Harbor, Washington created by Greg Bilderback. Bilderback later brought Michael Knapp in to help produce. Also playing bass Knapp helped Bilderback establish the original line up of SixTwoSeven in 2016. After bringing in Drummer David Cook, Bilderback & Knapp brought in siblings Jason and Matt Bilderback before heading into the studio. In spring of 2016 SixTwoSeven recorded their first EP with DubSeven Records at A Soundhouse Studio in Seattle Washington with Legendary Sub Pop Producer Jack Endino. The release of the EP titled Some Others Day came in August that same year. After their first West Coast Tour with Texas band Drive On Mak they headlined Rock Shows from Portland to L.A., including a stop in Roswell New Mexico for the International Film Festival of 2017 (where the band was nominated for a ROSSI Award for Best Rock Band). Tour plans took the band back to L.A. in the summer of 2017 appearing at the world famous Whisky a Go Go with Agent Orange (band). DubSeven Records subsequently released a promotional video of this entire 30 minute performance. Plans were leaked from DubSeven Headquarters that a full length LP was to be released in winter of 2018.[1] The LP titled "Already Gone / Dead on the Table was released in September (29th) after a string of singles and B sides through out the summer of 2018, which included an "on-board" music video for New Solutions where Bilderback is seen skateboarding. The record debuted at #497 on the College Radio Charts, and broke into the top 150 the first week of October at #141, reaching as high as #135. It was produced by illfunk, mastred by Endino, and released on 1 DubSeven Records.

---
Notes for the artist
: This page will always be here under your name in "
Featured Artists"
You can al
ways send us an updated Bio using 'CONTACT' on Menu at the top of page.
---

© LonelyOakradio.com