Sonny Jim
---
Featured Artist of December 22, 2019
with the song: No Shame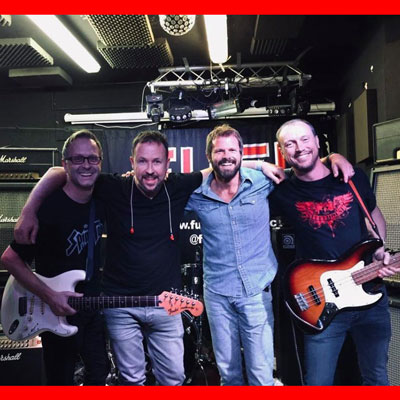 Sonny Jim are a 4 piece guitar based combo from Bridgend, South Wales. We first discovered the band back in 2012 and promptly released their debut EP, 'What's Up With You?' which captured a raw and heavy sound. Two singles taken from their debut EP received both regional and national radio play. 2013 then saw Sonny Jim release 'The Freaks EP' together with a brilliant video to their monster track, 'Freakshow'.
Sonny Jim then released their awesome debut album '123' but only in a traditional format to preserve their mystic. We quickly secured Sonny Jim US licensing in 2014 at a time when the band started receiving interest in the UK and internationally. Sonny Jim have now released multiple singles and Three further albums.
Three track from their albums have made Classic Rock Magazine track of the week. 'I Want a Tattoo' 'Look Both Ways' and the new single 'Don't Know What You Got Til Its Gone' was chosen by Classic rock earlier this year.
Sonny Jim thrive on playing edgy hard rock with souring melodies, the band go from strength to strength with the consistent quality of their songwriting and recordings.
Reviews
Throws in some killer hooks, ramps the volume up, and the end result is rather special indeed. The stellar production from Tim Hamill (Buck & Evans, Son Of Man, Tyketto) With its strong melodies and hooks, it's perhaps what you might call the "classic" Sonny Jim sound Another Winner from Sonny Jim Devils Gate Galvanised review highlights - devilsgatemusic.co.uk
"They come from Wales and don't have the most 'rawk' of band names. But since we were handed their debut LP Soul King Fire this week (by a friend of theirs, also Welsh), Sonny Jim have become something of an earworm here.
Elements of Foo Fighters and upbeat Feeder weave into this heavy yet adorable tune. Go on, give it a spin, then get a tattoo. Of Sonny Jim. ON YOUR FACE. Or not… But definitely check them out." Classic Rock Upload Photos (400sq) and music (wav or Mp3) - Use the pull down menu to select The kind of album that you might expect from musicians that have been around the scene since the early 90's; polished, accomplished, and bloody massive.
With experience comes a stubbornness of doing it your own way, no-one is going to try and tell these guys what to do after all this time. The end result being a rock album that bucks trends. Sonny Jim aren't Rival Sons retro, neither do they want to be Alter Bridge or Black Stone Cherry. So the chugging, train like guitars that so many UK bands try to emulate these days are nowhere to be seen… or heard. Devils Gate Media, "These guys have really got something here! … They play with the gusto of Chris Spedding &/but have the balls of a Viking Warrior! … Fantastic stuff! Way Out Radio
Something for everyone on this album, great songs with both attitude and melody DevilsGateMedia
This is the best record of the 21st century. A monster. A-list Jeff Cooper Radio 2XS
'Once you've heard this band You'll want to come back for more, totally addictive' Pure Gain Media.

---
Notes for the artist
: This page will always be here under your name in "
Featured Artists"
You can al
ways send us an updated Bio using 'CONTACT' on Menu at the top of page.
---