Steve Garcia
---
Artist's Biography

Straight out of the 80's and into the new millennium, Steven Garcia's music can be described as arena rock with a modern twist. With his solo debut, Undiscovered, Steven delivers a throw back album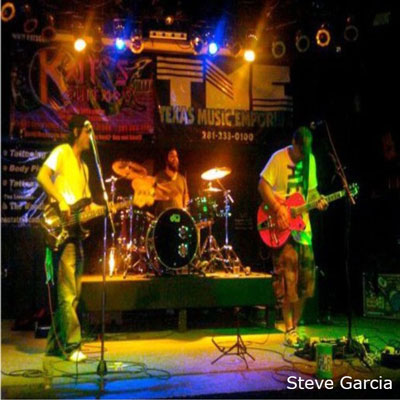 that tips it's hat to the 80's with a powerful and electric guitar sound. The Undiscovered album is described as "Rick Springfield on steroids".

A Texas boy who grew up in Corpus Christi, Steven started playing guitar at the age of 14. "Playing guitar was just something I always loved to do. I became obsessed with it." Unable to release his grip from the guitar, Steven moved to Houston in 1994. "I didn't want to leave Corpus but there was just so much opportunity in Houston", said Steven. "I was able to play music full-time for a living." Steven has been touring and making music ever since as a full time musician.

Soon after moving to Houston, Steven formed his band, The Rachels. As the main song writer in the group, The Rachels musical style relied heavily on Steven's personal influence of a loud guitar sound. Although, some of his music is surprisingly eclectic. "I love all types of music", said Steven. "Any music from any generation that catches my ear, I will listen to". This open-mindedness enables him to create not just 80's inspired rock but music in very different genres such as reggae, ska, country and pop. His diversity enables him to work with different producers and song writers, including Paula Deanda producer Mike Aguirre and writing two years for Clay Walker's publishing company.

During his time with The Rachels, they were signed with Six-Tone Records and released four original CDs: Buy American (1999), World of Dreams (2001), St Elmo Sessions (2003), and No Love Here (2006). Steven and The Rachels grew accustomed to playing four to five nights a week. They headlined many events such as the Houston Marathon (1999), the Houston Grand Prix (01), KLOL Holiday Ball, and the Astros opening day party (2000, 2004).

They developed a loyal Houston following with a reputation as a party band that could cover any song request. "Most nights we wouldn't even have a set list. We would just ask the crowd what they wanted to hear and play whatever they yelled out." This branded them as a virtual jukebox in high demand with Houston bar owners and booking agents. It led to the opportunity to tour Japan in 2003, 2004, and 2005 with Lone Wolf Entertainment. "Playing over seas, I got to perform for the armed forces which was a great honor. But it also helped me realize that anywhere people want to hear me play I'd be more than willing to go." Their popularity also granted them air play on Houston's KTBZ 94.5 and KLOL 101.1 radio stations, Each year major clients such as Clear Chanel Communications, Budweiser, and Rice University would request The Rachels to play at their events. In 2008, "I Can't Complain", from their World of Dreams CD, was placed in the soundtrack and motion picture Noble Things.

In 2012, Steven recorded with Love Sick Dog Publishing as a solo artist. "Sometimes you just need a change." The collaboration produced the songs "Will You or Won't You" and "Quasimodo". With the January 2012 iTunes release of "Will You or Won't You", Steven was quickly given the Song of the Week (February 19 - 25) from the London indie rock magazine Jamsphere. Soon after, he was heard all over the world through internet radio air play. He was awarded airplay on Hosstheboss.com, CrunchRadio.com, Tunecast.net, TalentCast (The Netherlands) Hotshotbands.com (Canada) E-buffett Magazine, Best European podcast nominee Cyphreinc, EGH Radio (UK), HD1Radio (UK), Rocker's Dive Radio, Lonely Oak Radio, Island Studio Solutions (BC) and TRS 24/7 Radio.

In the Summer of 2014, Steven was chosen to pen the title track and love song for the motion picture 'Bright Ideas'. Director Ronn Head said,"I was familiar with his past work so I knew he was capable of creating a song we could use for the film. The "Bright Idea" movie is in post production with a release date still pending to this day.

With his 2015 single, "Your Possession", Steven collaborates once again with LSDP. The song generates an unique sound that fuses different rock genres. With both acoustic and electric guitar sounds Steven manages to not only cross genre lines but some how blend them together to create a sound of his own while still having his radio friendly vocals shine through. After the success of this single, Steven and LSDP decided to work on a full length album. This collaboration produced the 12 song album entitled 'Undiscovered', which was released in February 2016.

In the summer of 2016, Steven was approached by director Juven Cavazos to write music for a modern day spaghetti western A Lonely Woman. Steven recorded seven songs for the movie. The film was released on March 23, 2018 with the original movie soundtrack released on May 4, 2018.

Steven has also released four new Albums with The Rachels : Aim for the Heart (2017), Crashing into Walls (2018), Save the Robots (2018), and Evil Toes (2019). Steven is also planning to release a Country and Reggae album in late 2020.

In between his work with the Rachels, Steven released The LSDP Singles Collection in 2019. The Love Sick Dog Publishing Collection contains singles previously released with LSDP, unreleased tracks along with alternative versions of different material. Steven will also be working with LSDP to release an all new solo album in 2020. This collaboration with be Steven's sophomore solo album.

Steven is currently performing in Houston acoustically or with a full band three to five nights a week. "I'm happy doing what I want for a living, which is playing my music for people. I wouldn't have it any other way."


---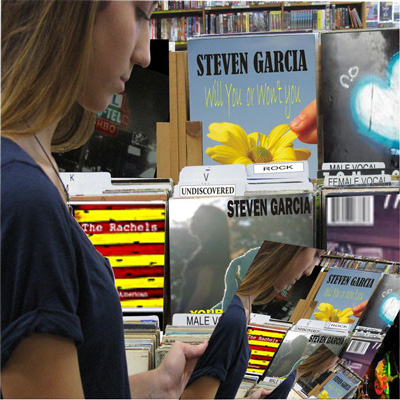 Full Album show of December 26, 2020
Album: Undiscovered


About the Album:

Straight out of the 80's and into the new millennium, Steven Garcia's music can be described as arena rock with a modern twist. With his solo debut, Undiscovered, Steven delivers a throw back album that tips it's hat to the 80's with a powerful and electric guitar sound. The Undiscovered album is described as "Rick Springeld on steroids".





---
Featured Artist of December 25, 2020
with the song: It's Christmas Time



---
Notes for the artist
: This page will always be here under your name in "
Featured Artists"
You can al
ways send us an updated Bio using 'CONTACT' on Menu at the top of page.
---

© LonelyOakradio.com