Symfinity
---
Featured Artist of April 3, 2020
with the song: Dynamite, Flipside

NYC's Symfinity harnesses the power of a full symphony orchestra, and combines it with metal edge and surprising pop-rock undertones to transport you elsewhere. Featuring Seann as frontman/composer/orchestrator, Doc on guitar, Avery on varied wind instruments, Crystal on piano, and Matt on drums, Symfinity drives home dramatic anthems that move audiences with their emotional impact.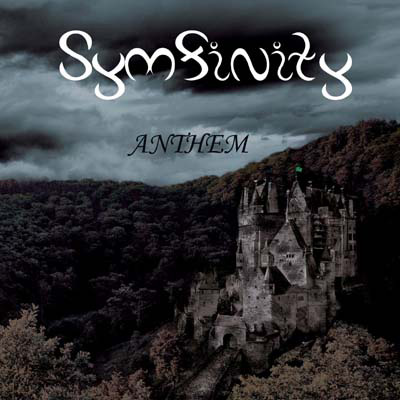 This is symphonic metal as it's never been done before. With the closest comparison perhaps being "Jethro Tull meets Nightwish", or "The Moody Blues meets Kamelot", Symfinity combines multiple genres in an innovative way that appeases a wide-reaching audience. Their songs satisfy the uncommon role of being both family-friendly and metal-friendly, and touch on relatable life topics that resonate personally with listeners.

Symfinity is for everyone. It's for the person who gave up playing an instrument after middle school and looks back fondly at playing it. It's for the person looking for emotional musical riffs to get them through the school or work week. It's for the gamer living in a world of fantasy. It's for the orchestra nerd who has a dark side. It's for the high schooler who is trying to figure out life and themself, and needs feel-good anthems to hold onto for inspiration. It's for the middle-aged person who laments never getting to have learned an instrument, but was always enamored with the sound of a bombastic, minor-mode symphony played by a capable orchestra. It's for the fan who derives meaningful substance from the intricate partnership of lyrics and chords as they jump along, triumphantly. It's even for the unsuspecting onlookers who accidentally stumble upon the cacophony of sounds from instruments ringing out in harmony, who then linger to ogle this spectacle with unforeseen curiosity and wonder.

Symfinity excitedly awaits the release of their new album, Anthem, in Summer 2019 – which showcases their new, heavier sound. In the meantime, audiences can enjoy their recently released single, Everything I Know Explodes – along with earlier, more rock ballad-styled albums Apocrypha and Intangible Dreams.

www.symfinity.com

Band History:

The concept for Symfinity originally began as the creation of musician and creative mind, Seann Branchfield while he was studying music composition at The City College of New York. Having been a music major in college and a songwriter, the idea to combine rock music with full orchestra arose and he began to make arrangements of a few songs.

While studying film scoring at New York University, he met future bandmates. While having orchestra parts written for most of the songs, he formed a 5-piece band called Seann Branchfield and the Unnamed Band, with Seann on guitar and vocals, with a flute, piano, bass and drums. The band played around New York city from 2009-2010 with numerous guest musicians on different orchestra instruments joining various performances. At the end of 2010, the first lineup changes were made and the band ultimately became Symfinity.

The lineup continued to be modified over the next couple years as the band started to build momentum and book a increase of shows throughout the northeast and began to record the first album. Intangible Dreams was released in March of 2012, featuring the current lineup and session musicians. The band took a hiatus while Seann started to promote the album and begin work on the next album. A new lineup emerged in 2013 and the band began performing again. While the new album was being recorded, which was a huge undertaking with the inclusion of a live 50-piece orchestra, Seann decided to make an acoustic EP which could easily be released. The EP called Apocrypha came out in 2014.

Around 2014, the band also started making connections in the local metal scene and started playing bigger shows. The band opened for grammy-winning band, Brave Combo in Texas and also performed at The Stone Pony in Asbury Park. In 2016, Seann recorded a single, Everything I Know Explodes and released it as a stand-alone single shortly after the band opened for Doro. He played every instrument on the single (including piano, guitar, bass, drums, oboe, trumpet, and violin) and released it as a video. The band opened for Sonata Arctica at Stage 48 in NYC shortly after. With the additions of Avery (on winds) and Tony (on drums) in 2016 the band settled upon the current lineup moving original bassist Doc to guitar and Tubes (on bass) with their debut at Gramercy theater in 2016. The new album, entitled Anthem is currently in post-production.

The band, with its collective unit of talented musicians, will also be going forward with their sound to inspire and engage fans all across the US and show that there unique union is well worth not only listening to but viewing in person. Relating to so many different genres and groups as truly lighted a new fire for the band as they can fit in with Cosplayers, Metalheads, fashionistas, orchestra style and more.

---
Notes for the artist
: This page will always be here under your name in "
Featured Artists"
You can al
ways send us an updated Bio using 'CONTACT' on Menu at the top of page.
---

© LonelyOakradio.com