The Holy Guns
---
Featured Artist of May 21, 2021
with the songs:
Baby Don't Love Me, Girl With The Red Dress On, Show U More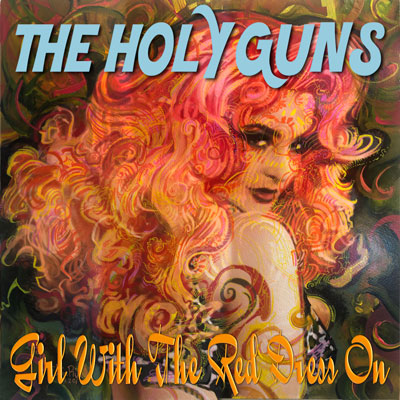 Artist's Biography

Hot bottles & long nights - a modern Blues/Rock/Soul band on its own terms...

Brad Williams had wanted to start a modern Blues/Rock/Soul band for some time, playing original songs with honesty, integrity & soul. The mission was to write & perform songs for the sheer love of the music, without compromise. The Holy Guns were born.

To express themselves fully & without limitations, the band became a collective, with the best of British Blues talent contributing their souls.

That dream of Brad's is manifest in the recent releases "Baby, Don't Love Me (Getaway Car)", "Show U More", & now, "Girl With The Red Dress On".

Enjoy the ride...

More about Brad:
After hearing AC/DC's "If You Want Blood...", transfixed with the sound of Angus' Gibson SG, Brad began playing guitar aged 10. He first played live at 15 & soon became a touring/recording session musician/composer. Having toured with Mike Peters (The Alarm), replacing Ethan Johns in his band, he subsequently recorded tracks with Mike, David Watkins-Clarke (David Crosby), Martyn Barker (Shriekback) & Olle Romöat The Eurythmics' 'The Church Studios' in Crouchend, London, produced by Alan Shacklock (Babe Ruth/Roger Daltrey/Nik Kershaw/Chesney Hawkes). Now influenced by everyone from Marcus King/Stevie Ray Vaughan/Gary Moore/Joe Bonamassa/Yann Tiersen/Marvin Gaye, via Air/Hendrix/Talvin Singh/Nitin Sawhney/Van Halen, etc., he has worked with many artists and been involved with many collaborations. Today he composes for film/tv/commercials, and is writing/producing in a variety of genres, playing regularly & broadening his style. Recently playing lead guitar & writing songs for Stoneblower, he has performed various shows in London & the SE, at Guilfest 2014, had airplay on Resonance FM, Redstone FM & Eagle FM, and one of the songs he co-wrote with Paul Emons for Stoneblower ("Skeleton Key") is featured in both the official trailer and the US feature film "Wheels" ("Wheels, The Movie" - Official Trailer"), released in September 2014.
He released 2 singles with Stoneblower - "Take You Home" & "Delta Deckhand", and also a solo single - "Maua's Hour".


---
Notes for the artist
: This page will always be here under your name in "
Featured Artists"
You can al
ways send us an updated Bio using 'CONTACT' on Menu at the top of page.
---

© LonelyOakradio.com