Full Album show of November 4, 2019
Album: Ghost Land

THE MARSHALL PASS IS: Duncan Arsenault and Craig Rawding. - The Marshall Pass photo by Brian Goslow

The Marshall Pass began as a project of Duncan's in the Winter of 2012 in Worcester, Massachusetts. The songs that would become Abilene and Stranded In Perdition were written for the band Pistol Whipped. That April, the singer and guitarist of Pistol Whipped, Scott Ricciuti, died in a tragic car accident. Scott's death would forever change the lives of his family and friends.
Not long after Scott's death, Duncan played these songs for Craig and the two commiserated over the loss of their friend and musical partner. Taking the songs home with him, Craig called later to say that he had written lyrics and melodies for them. The following weekend, at Duncan's house, the vocals were recorded. In the months that followed, the two continued to collaborate in the same way: Duncan writing instrumental songs that Craig would listen to and write lyrics and melodies for.
Phantom Train is the beginning of this collaboration.

"It usually takes me a few listens before I allow myself to become fully seduced by a new artist, but Phantom Train got me from the very first song. There is an intimacy here, an authenticity. One gets the feeling that your music is as much a gift for yourselves as it is for your fans." – Combustus 13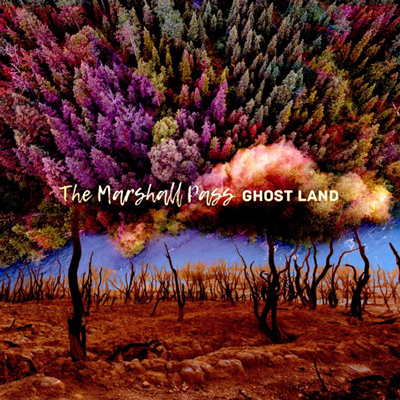 'Ghost Land' by The Marshall Pass was released a few days ago and this five track Americana EP delves into the realm of pain and loss. Given the subject matter, the overall sound feels very weighty while aspects of Appalachian music fuel its heaviness. The EP opens with the song 'Waiting for the Shoe to Drop', which is a very fitting introduction considering what's to come. It is by far the lightest song which on an EP titled 'Ghost Land' so you kind of already had a clue that you're not getting Bubble Gum Pop, thus you are indeed waiting for the shoe to drop.
You don't have to wait very long because there is a clear massacre that takes place in 'Blood Riders'. This ain't for the faint of heart! The lyrics give you the bone chilling phrase "Gonna be a lot of graves for the digger to fill / When blood riders come up the hill"
This tells the story of wanting to buy land when the land owners don't wanting to sell. The buyer resorts to sending in these 'Blood Riders' to get his way. A story as old as the country itself. Next up we have 'Cold Day in Hell' which is a song that's about having a long streak of bad luck essentially. Nothing ever goes right or as planned and it'll be a 'Cold Day in Hell' before it does. In 'Lost Horizon' you've come to that point where you've got two choices you can either succumb to your circumstances or keep moving forward. It's that moment that hits when your exhausted and you really feel lost. You want to give up. What would you do?
Lastly we have 'The Day Llewelyn Died'. If you were to consider all of the songs to be a part of a movie, then this song is the end of the movie that is portrayed as a flashback to how this 'Ghost Land' came to be. You know, like something out of M. Night Shyamalan's playbook. To that I say, well played, The Marshall Pass.
I can't say I know much about this band and while this seems intentional to me it may just be my warped perception. Regardless, the EP is very well written and all the song can stand alone as singles but seem to really come alive when listened to in its entirety. Nicely done! You can listen to the opening song 'Waiting for the Shoe to Drop' down below. As always, if you like what you hear then let's keep good music coming by supporting these artists.


---