The R Train Band
---
Featured Artist of Sep 4, 2020
with the song: Flip Out Zone

Artist's Biography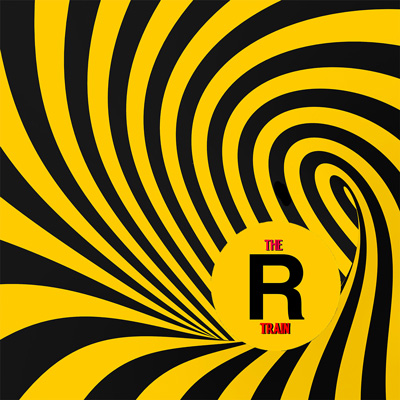 The R Train is an American Rock Band hailing from Brooklyn NY, with tracks leading down into South Florida. The band consists of vocalist guitarist Jeffrey Black, drummer vocalist Mike Annese, and bassist harmony Denny Lee. Formed in early 2019 by members Black and Annese, the band's name came about while traveling on the New York Subway, the R Train. They were taking the train from Bay Ridge Brooklyn to Manhattan, to master a couple of tracks at Battery Studios, also known as the legendary "Record Plant" at 321 44th St. The Plant, as it is known today, is home to some of the greatest recordings of all time - from the likes of John Lennon, Jimi Hendrix, Aerosmith, Kiss, and countless other greats. As the train swayed back and forth, the two thought, "we are in the greatest city in the world, traveling on the ride of a lifetime," it was at that moment "The R Train Band" was born.
They had a chance meeting outside the Plant with Music Executive Producers Brud Van Cott and Albert Trenchie, who found the band to be an untapped resource with a new refreshing Rock sound and took an interest immediately. Van Cott says, "with the world full of the electronic sounds of Hip Hop, Rap, and Dance track acts, The R Train Band brings on the pickup the guitar and drumsticks, and let's be real vibration once again."
On their debut single from their 11-song album Full Throttle, The R Train Band lets loose with "Flip Out Zone"- a song that harkens back to the roots of screaming rock. The track tears off with a riff-heavy sound, and a driving drumbeat accompanied by vocal-chant-ready arena rock, with the energy and power of a new school sound. Written with the pressures of life in mind, songwriters Black and Annese give caution to the seductive lure of money from a mundane job and life, sending the message of "wake up to reality and be who you really want to be." With the recent Coronavirus pandemic in mind and the world enduring self-isolation, the band chose this song to be first out of the station. The tune provides fans with an escape from monotony through deep grooves within the melodies and pulse of the music.
Close to their heart runs compassion for humanity and kindness. With the constant pressures of society, the band supports a few key organizations. Mike Annese finds giving back to the fire service through his support of National Fallen Fire Fighters Foundation and a few others. From post-traumatic stress disorder (PTSD), to heroic actions that have taken our nation's best, this is a cause that is not only real but personal to Annese who is a Deputy Fire Chief. For Jeffrey Black, being vegetarian suits him well in his plight to save animals from harm. His love for felines and canines peaks in his devotion to the Humane Society of America. In 2010 Bassists Denny Lee underwent a liver transplant. Upon returning home from the hospital, his 12 lb. Pomeranian, Jack, stayed at his side constantly, making sure that Denny remained in good spirits and helped him recuperate much faster than expected. After his own amazing experience with Jack, Denny began supporting his wife and other members of "National Crisis Response Canines", who respond to individual trauma and mass tragedy events nationwide to offer the companionship and comfort of specially trained, certified Crisis Response Canines and their handlers. Denny has two, Mack and Bear. When people are hurting or the First Responders need a lift, the Crisis Response Canines go to work and provide their love and magic to those who need them. Denny's commitment to "Crisis Response Canines" is reflective of his personal devotion to "The Golden Rule".... All life is precious!
The R Train Band's goal is to inspire everyone to get up out of their seats, forget about the everyday stresses of the world for a little while, rock your heart out, and dance to the feel of the music. Most of all, remember always fight for what you believe in and be who you are inside on the outside. We invite you to climb on board the unstoppable R Train band for a non-stop fun energetic ride down the tracks toward the future and remember that life is what you make of it. Don't forget to stop and hear and feel the music in your soul!!

---
Notes for the artist
: This page will always be here under your name in "
Featured Artists"
You can al
ways send us an updated Bio using 'CONTACT' on Menu at the top of page.
---

© LonelyOakradio.com