The Refusers
---
Featured Artist of Aug 24, 2020
with the song: Clown Show

Artist's Biography: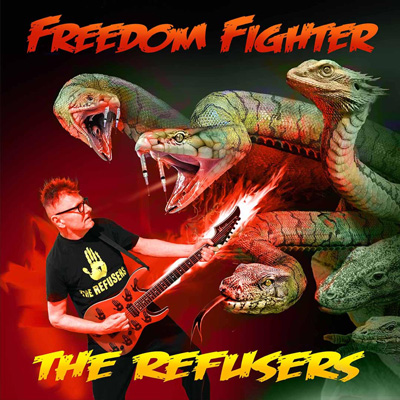 Blasting through the establishment's twisted goals, The Refusers perform songs of musical defiance. The Refusers speak today's spirit of rage and simmering revolution against the establishment. The Refusers have opened for the Black Keys, Kings of Leon, Joan Jett, X, Jane's Addiction, Black Crowes, Alabama Shakes and The Flaming Lips.
The Refusers include Michael Belkin (songs, guitar, vocals), Brendan Hill (drums), Eric Robert (Nord Keyboards), Joe Doria (Hammond Organ) and Steve Newton (bass and background vocals).
This latest Refusers album Freedom Fighter arrives as the public's temperature reaches the boiling point.
Freedom Fighter finds The Refusers – including longtime Grammy winning drummer Brendan Hill, engaging in fiery takedowns of the government and its entrenched systems. Aligning with battling those institutional forces, The Refusers speak for the little guys (and gals) fighting racism, police brutality, a broken healthcare system, big pharma, propaganda and the lies of the mainstream media designed to keep the sheep grazing blindly. All this with blazing rock guitar tracks designed to rock your world. This new Refusers album embodies the spirit of freedom from oppression: Freedom Fighter! Released on AWAL.


---
Notes for the artist
: This page will always be here under your name in "
Featured Artists"
You can al
ways send us an updated Bio using 'CONTACT' on Menu at the top of page.
---

© LonelyOakradio.com