The Scaramanga Six
---
Featured Artist of July 28, 2021
with the song: Horse With No Face


Artist's Biography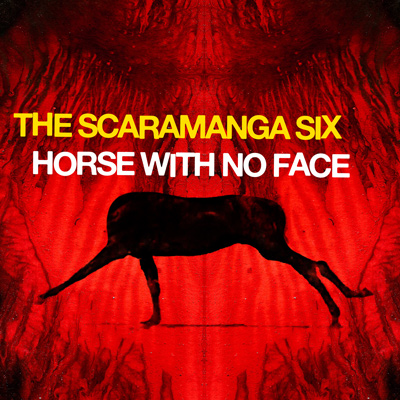 'Horse With No Face' is a short and thunderous gallop through the mind of the restless. You find yourself sat atop a beast with no brakes and no means of control. The aim of the song is that there is no aim.
Witless, faceless and unable to stop, you bound on relentlessly. A prime example of how the band deal in abstract imagery yet manage to tell a story. Underpinned by a doubled drum kit, savage Fall-esque bass lines and wilfully discordant guitar interplay, Paul's lead vocals are spat out with gang-style falsetto responses from the rest of the band.

This is the first track to be released from the forthcoming album 'Worthless Music' – the tenth studio album by The Scaramanga Six. As an album, this takes the band back fully to their punk guitar roots with a relentless set of upfront songs. There is still the trademark cinematic arrangement and slabs of vocal harmony in amongst the scratchy playing and intense performances. This is still pop music, but played using darkly textured chords and savage attack. Recorded and mixed at 2Fly Studios, Sheffield, UK by Lord Alan Smyth (Arctic Monkeys & Pulp). Produced by The Scaramanga Six and Lord Alan Smyth.

TyrannoPop? Luxury Rock Noir? Schitzophonic Splattercore? – whatever you want to call it, this suave and enigmatic unit have carved their own scenester-defying niche since the mid-90's as the most unique and creative underground rock band in the UK, gaining massive industry support from the likes of Rocksound, Kerrang!, Gideon Coe at 6 Music, The Quietus and more along the way.

"Soulful and subtle, yet also adventurous and abrasive, The Scaramanga Six possess all the makings of a classic band." KKKK – KERRANG!


---
Notes for the artist
: This page will always be here under your name in "
Featured Artists"
You can al
ways send us an updated Bio using 'CONTACT' on Menu at the top of page.
---