Westerner
---
Featured Artist of Aug 10, 2020
with the song: I Don't Want Nobody Who Wants Me

Artist's Biography: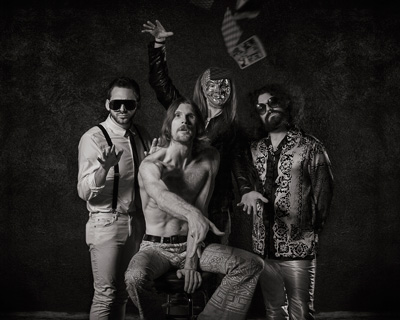 Driven by lead vocalist Cooper Bombadil, Westerner would be incomplete without Mike Gattshall (drums), Brandon Valerino (bass & vocals) and Javier Olmedo (guitar). Cooper started Westerner after he wrote and recorded their debut album 'Unreal City', a sci-fi rock opera composed of surreal sounds, and strange characters. He then formed a band to play the music live. After learning the material, the band collaborated on new songs. Over the years, Westerner has developed an explosive live show and a devoted 'cult like' following.
Known for their electric live performances, the ensemble began drawing in large crowds, performing at iconic venues such as; Beverly Hilton, Good Times at Davey Wayne's, The Bootleg Theater, Whisky a GoGo etc. The band deliver catchy pop songs, driven by electronic synths, combined with psychedelic soundscapes to create exciting shows that are unlike anything you've seen or heard before. Music Connection Magazine included Westerner in their Hot 100 Live Acts list three years in a row describing them as "One of the best bands in Los Angeles."

---
Notes for the artist
: This page will always be here under your name in "
Featured Artists"
You can al
ways send us an updated Bio using 'CONTACT' on Menu at the top of page.
---