Zana
---
Featured Artist of March 4, 2020
with the songs: Can't Hide, Nah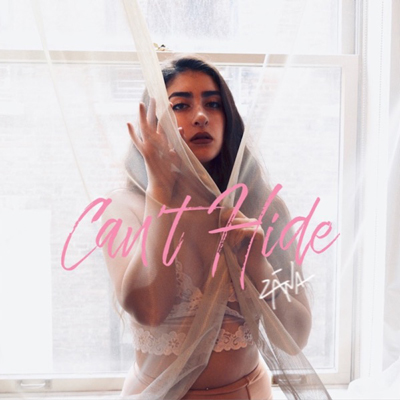 Oakland-bred singer/songwriter Zana creates music with a mesmerizing quality, almost instantly transporting you to a more enchanted time and place. On her debut EP The Beauty of Zora, the New York City-based multiinstrumentalist delivers what she calls "gypsy-pop": a soulful and sophisticated sound rooted in fnespun melodies and intricate rhythms. And with her singular voice, Zana conjures up a breathtaking beauty even as she fearlessly explores complex issues like depression and anxiety.
Produced by Zana herself in collaboration with engineer Al Hemberger (Rihanna, Christina Aguilera), The Beauty of Zora ocers a lavishly textured sound that draws inspiration from Latin and Arabic music but unmistakably bears elements of modern pop. On songs like lead single "Wish He'd Stayed," she reveals the elegant musicality she's honed since childhood. Naming everyone from Nina Simone to Yugoslavian rock bands of the '80s among her inguences, Zana started drumming at age eight, learned to play guitar at 15, and later attended and graduated from Berklee College of Music with a BA in Professional Music. With her debut single "Into My Bed" arriving in 2014 and co-written with Grammy Award-winning producers Tim Mitchell (Bob Seger, Shakira) and George Noriega (Ricky Martin, Shakira, JLo), her past releases also include "Call Ya", produced by Big Len from NYC, whose video has amassed over 1.4 million views since premiering on Just Jared Jr. in early 2018, "Nah", a girl power single produced by LEFTI and her latest release, "Can't Hide", also produced by Big Len, featuring live instrumentation from extremely talented musicians across NYC, including a horn section arranged by fellow Berklee graduate, Erickson Cardenas.
Instruments: vocals, drumkit, arabic percussion (i.e. darbuka, riq, sajat) and guitar.

---
Notes for the artist
: This page will always be here under your name in "
Featured Artists"
You can al
ways send us an updated Bio using 'CONTACT' on Menu at the top of page.
---

© LonelyOakradio.com