---
Kuhl
---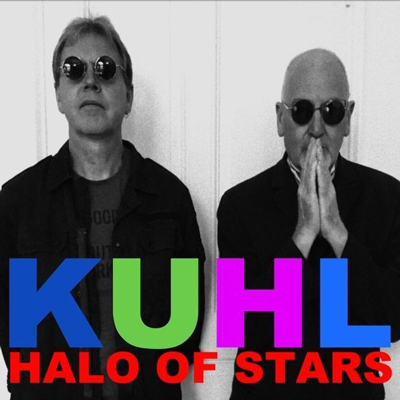 Kuhl is an electronic music collective from England and France, formed in 2015. The core of Kuhl is Cas Greenfield (guitar, vocals, keyboards) and Mikey Cooling (guitar, keyboards, vocals), with guest vocalists including Sandra Ireland, Maddy Harwood, and Henry Cameron Allen. Check out the Ubertanz website for the in-depth lowdown on the Kuhl Kollektiv line up, catalogue and musical philosophy.
With dedicated studio time, Kuhl has been able to concentrate entirely on this broad sweep of an album, capturing a cohesive sound that is unique to the band, with songs that have thought-provoking lyrics and intricate music, creating a soundscape that is akin to a series of short stories with dance beats.
Always regarding themselves as a European band, Kuhl now crosses international borders. Cas Greenfield lived in Amsterdam for many years, but currently lives in Stroud, now billed as the Bohemian Capital of The Cotswolds (as well as being the crucible that spawned Extinction Rebellion) while Mikey lives in the Cevennes region of the South of France..

Web site: www.ubertanz.com

---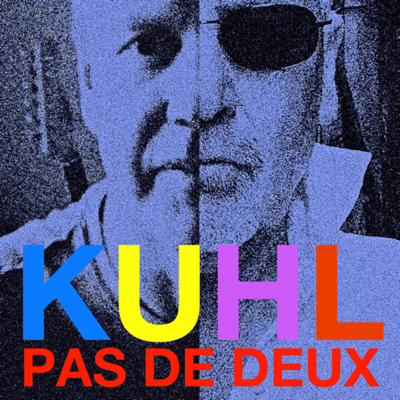 Full Album show of Oct 27, 2019
Album: Pas De Deux

About the Album: A 23 track double album that is all at once thoughtful, provocative, controversial and achingly beautiful.
Expect politics, post-apocalyptic musings, lust, love and the death of Dylan Thomas.
Pas De Deux;
Imagining 'Pas De Deux' as a conventional double album, Kuhl has sequenced the songs into four sides that have both musical and lyrical links. In these days of streaming, the songs are each completely stand-alone, but for those of you with vinyl sensibilities, you might enjoy our original groupings.
Side One takes us through the joyous Euro-pop opening of 'Halo of Stars' through a set of up-tempo but thought-provoking songs including Mikey's yearning 'Breakthrough', the gospel-tinged 'Raise The Roof', a dark game of 'Hide and Seek', the transience of 'Chalk Marks In The Rain' and the lifeaffirming 'Immortals'

Side Two opens with 'Here Is Where The Heart Is' inspired directly by the studio environs, once inhabited by Picasso and many of his contemporaries. 'Eighteen Shots' is a slow, but hard-hitting track that muses on the death of Dylan Thomas, with quotes from both John Donne and Thomas. This takes us through two funky tracks 'Bumping Into Clouds' and 'Crush Hour' to the aching love song 'Breathless'. The closing track on side two is 'Hold On' - a plea to the planet in these times of global warming and the threat of ecocide, featuring guest vocals from Maddy and Henry.
Side Three kicks off with the rollicking 'Absolution' based on an old sea shanty of the 19th century.
Followed closely by 'One To One' with its political undertones. 'Lost in Space' continues the theme and brings us to 'Destruction'. 'One Voice' sends the message that Jaw Jaw is indeed preferable to War War… This set concludes with 'One More Summer Of Love' - a dark song that tells a compelling story.
Side Four begins its journey with the eery track 'Hungry Tonight'. Fans of Horror might enjoy this one.
'Mean Girl' is one of those relationship songs and has a great Nah Nah singalong ending. 'Shine' is a little freakout number that finds its origins in Cas's time in Amsterdam, followed closely by 'Deja Voodoo' - another dark and ominous piece. The album closes with the uplifting anthem 'Wheel Of Fortune' - with its 'light at the end of the tunnel' optimism.
Kuhl is on a creative high - there's no stopping us now…


---
Full Album show of Febuary 25, 2016
Album: The Circus of Outrageous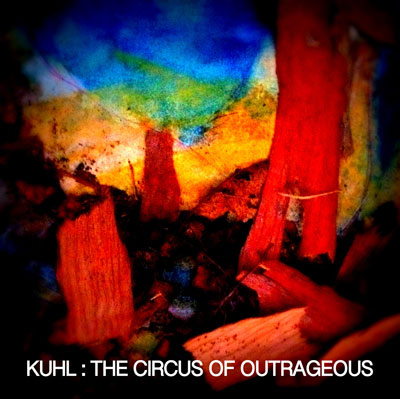 After the insane debut single 'Uber', no one expected the ordinary from this UK based production team. 'The Circus of Outrageous' does not disappoint. With tracks that draw in everything from human rights to female impersonators, from the first kiss to the last breath, from film noir to Shakespeare, 'Circus' is an intelligent combination of hard and soft beats with thought provoking lyrics. Tom Waits meets the Pet Shop Boys? You may not be far off! But listen for yourself.
'Circus' has a truly international feel, with tracks in English, Dutch, German, Italian and Kuhlspeak. 'Space Cake' features a gentle and nostalgic rap in Dutch, while 'You, Me, The Stars & Love' speaks its words of love in Italian. Kuhl finds their inspiration in the disco of the 1970s and 80s, with the beats of today's stadium noise permeating the groove. Euro bands such as Army of Lovers, Gravitonas, PSB creep through the undergrowth of sound, with Skrillex, Knife Party and the like informing the cutting edge production. 'The Circus of Outrageous' was recorded at Kuhl's work-in-progress studios on the borders of the M5 just north of historic city Gloucester. Working from a derelict stable block on an ancient farm complex, Kuhl have taken that old prog-rock concept of 'getting it together in the country' to a new lo-tech/hi-tech extreme. Fuelled only with turbo strength coffee, the boys worked long into the night to create the kaleidoscopic journey that has become 'Circus'. The boys are now out on the streets label hunting. 'Circus' is an ultra commercial product with a ready-made global market. Kuhl wants to hear from you. For more information about Kuhl, their product and the licensing thereof, just get in touch through kuhl@ubertanz.com
The Circus is coming to town!

---
Notes for the artist
: This page will always be here under your name in "
Featured Artists"
You can al
ways send us an updated Bio using 'CONTACT' on Menu at the top of page.
---

© LonelyOakradio.com